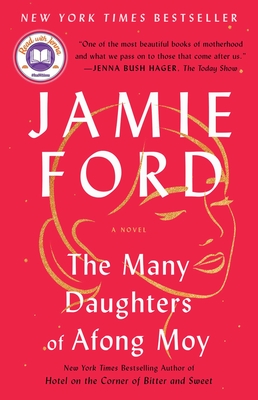 The Many Daughters of Afong Moy: A Novel
Publication Date:
May 2nd, 2023
BOOK ENDS Winchester
2 on hand, as of Dec 9 9:14am
(FICTION)
On Our Shelves Now
Jamie Ford explores the relationship of mind, spirit, and personal history in this gorgeous, multigenerational novel. The descendants of Afong Moy dig into their inherited pasts with astonishing results. A hopeful, beautiful read!
August 2022 Indie Next List
Description
AN INSTANT NEW YORK TIMES BESTSELLER
A Read with Jenna Today Show Book Club Pick
The New York Times bestselling author of Hotel on the Corner of Bitter and Sweet returns with a powerful exploration of the love that binds a family across the generations in "one of the most beautiful books of motherhood and what we pass on to those that come after us" (Jenna Bush Hager, Today).
Dorothy Moy breaks her own heart for a living.
As Washington's former poet laureate, that's how she describes channeling her dissociative episodes and mental health struggles into her art. But when her five-year-old daughter exhibits similar behavior and begins remembering things from the lives of their ancestors, Dorothy believes the past has come to haunt her. Fearing that her child is predestined to endure the same debilitating depression that has marked her own life, Dorothy seeks radical help.
Through an experimental treatment designed to mitigate inherited trauma, Dorothy intimately connects with past generations of women in her family: Faye Moy, a nurse in China serving with the Flying Tigers; Zoe Moy, a student in England at a famous school with no rules; Lai King Moy, a girl quarantined in San Francisco during a plague epidemic; Greta Moy, a tech executive with a unique dating app; and Afong Moy, the first Chinese woman to set foot in America.
As the painful recollections affect her present life, Dorothy discovers that trauma isn't the only thing she's inherited. A stranger is searching for her in each time period—a stranger who's loved her through all of her genetic memories. Can Dorothy break the cycle of pain and abandonment to finally find peace for her daughter and love for herself? Or will she end up paying the ultimate price?
"For Jamie Ford fans both old and new, The Many Daughters of Afong Moy is an unmitigated pleasure" (Christina Baker Kline, #1 New York Times bestselling author) and a lyrical love story unlike any other.
Praise for The Many Daughters of Afong Moy: A Novel
"The Many Daughters of Afong Moy is simply transcendent. The first Chinese woman to set her lotus-bound feet in America is destined to set off a ripple through time and space, as her descendants struggle with her legacy of loss and loneliness. Themes of karma, courage, love, and motherhood weave timelessly through eight generations of women seeking to find balance in an increasingly tempest-racked world. Jamie Ford has outdone himself!" —KATE QUINN, New York Times bestselling author of The Rose Code
"Jamie Ford's army of readers will be thrilled by this amazing new novel, The Many Daughters of Afong Moy, which promises to take them to places they have not been to before. At our house, we enjoyed many nights reading later and later into the evening, and discussing its wonders and surprises." —LUIS ALBERTO URREA, bestselling author of The House of Broken Angels
"Fans of The Hotel on the Corner of Bitter and Sweet rejoice: Jamie Ford has done it again. The Many Daughters of Afong Moy is a searing and vibrant epic of generational love, trauma, and healing. In his trademark poignant prose, Ford breathes Afong Moy and her descendants to life with dimension and power. This is a book that will stay with readers and reshape how they engage with their own lives and legacies. To read it is to be transformed--and to transcend." —QIAN JULIE WANG, New York Times bestselling author of Beautiful Country
"A haunting love story not just for our time but all times, Jamie Ford's The Many Daughters of Afong Moyexplores the challenges of the Asian experience across eras, and into our own, and reminds us that no human suffers alone.Impossible to put down once I picked it up, its characters will live with me for a very long time." —HUGH HOWEY, New York Times bestselling author of Wool
"Lyrical and profound, poignant and original, this sweeping saga explores the love that binds one family across generations. For Jamie Ford fans both old and new, The Many Daughters of Afong Moy is an unmitigated pleasure."—CHRISTINA BAKER KLINE, #1 New York Times bestselling author of Orphan Train and The Exiles
"[I]mmersive and enlightening." —Booklist
"Ford raises fascinating questions..." —Kirkus