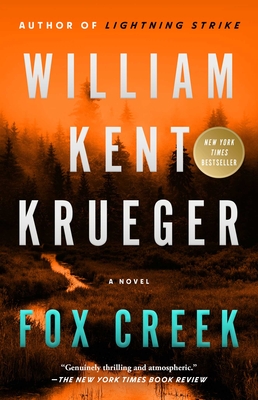 Fox Creek: A Novel (Cork O'Connor Mystery Series #19)
Publication Date:
May 23rd, 2023
BOOK ENDS Winchester
4 on hand, as of Dec 9 9:14am
(FICTION)
On Our Shelves Now
Fox Creekcontinues the saga of Cork O'Connor who is now a licensed private investigator. Krueger's concern for the Native people of Northern Minnesota is very evident in this tense and dramatic mystery with many unexpected twists.
September 2022 Indie Next List
Description
The New York Times bestselling Cork O'Connor Mystery Series returns with this "genuinely thrilling and atmospheric novel" (The New York Times Book Review) as Cork races against time to save his wife, a mysterious stranger, and an Ojibwe healer from bloodthirsty mercenaries.
The ancient Ojibwe healer Henry Meloux has had a vision of his death. As he walks the Northwoods in solitude, he tries to prepare himself peacefully for the end of his long life. But peace is destined to elude him as hunters fill the woods seeking a woman named Dolores Morriseau, a stranger who had come to the healer for shelter and the gift of his wisdom.
Meloux guides this stranger and his great niece, Cork O'Connor's wife, to safety deep into the Boundary Waters, his home for more than a century. On the last journey he may ever take into this beloved land, Meloux must do his best to outwit the deadly mercenaries who follow.
Meanwhile, in Aurora, Cork works feverishly to identify the hunters and the reason for their relentless pursuit, but he has little to go on. Desperate, Cork begins tracking the killers but his own skills as a hunter are severely tested by nightfall and a late season snowstorm. He knows only too well that with each passing hour time is running out. But his fiercest enemy in this deadly game of cat and mouse may well be his own deep self-doubt about his ability to save those he loves.
New and longtime "fans will be enthralled" (Publishers Weekly, starred review) by this gripping and richly told addition to a masterful series.
Praise for Fox Creek: A Novel (Cork O'Connor Mystery Series #19)
"This genuinely thrilling and atmospheric novel brims with characters who are easy to root for."—The New York Times Book Review
"As usual in a Krueger novel, the prose is elegant, the landscape of Minnesota's northeastern triangle is vividly portrayed, the character development is superb, and Henry's Native American mysticism is treated with understanding and respect." —The Washington Post
"From Iron Lake — the first in the Cork O'Connor series — to Fox Creek, Krueger has exhibited a mastery and control that can't be denied. Maybe he should start calling himself an alchemist, because he has the formula down to an art." —St. Louis Post Dispatch
"With its quick pacing and multi-layered plot, William Kent Krueger's Fox Creek dazzles early, sucking readers in, before giving way to a heart-thumping final act that delivers one hell of a reading experience." —The Real Book Spy
"Krueger has exhibited a mastery and control that can't be denied. Maybe he should start calling himself an alchemist, because he has the formula down to an art." —Minneapolis Star-Tribune
"Fox Creek is the best book in the series yet." —Star Tribune (Minneapolis)
"Outstanding… skillfully blends an evocative look at nature's beauty and peril with Native American lore…fans will be enthralled."—Publisher's Weekly (starred review)
"One of those rare authors who combines intricately plotted, issue-oriented stories with mysticism and action. A must for fans of beautifully written crime." —Library Journal (starred review)