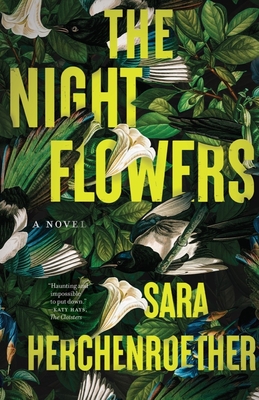 The Night Flowers
Publication Date:
May 2nd, 2023
Publisher:
Tin House Books
BOOK ENDS Winchester
1 on hand, as of Dec 9 9:14am
(FICTION)
On Our Shelves Now
A gripping and suspenseful debut. Take one cold case, two women who are determined to discover the truth, entwine them with the voice of the victim, and you have one unforgettable and powerful read.
May 2023 Indie Next List
Description
People tend to think of us as shadows. Blurred black mist. Often, it's "out of the corner of my eye." People sense the cold. I've heard of ghost hunters who use a tape measure, laying it on the ground to mark our boundaries. I don't want to be measured.

In 1983, deep in New Mexico's Gila National Forest, the bodies of a young woman and two children were found. Who were they? How did they get there?
Thirty years later, two women find themselves drawn to the cold case. Librarian Laura MacDonald begins her own investigation as a way to distract herself from breast cancer treatments and becomes consumed by her search for answers. Jean Martinez is a veteran detective determined to keep working cold cases for the Sierra County police force even as her family begs her to retire. With only fragments from dusty case files and a witness who doesn't want to remember, this unlikely duo is determined—no matter the cost—to uncover the truth behind the murders. And with their help, the woman in the woods is finally able to tell her story on her own terms and summon the power to be found.

The Night Flowers—a haunting debut thriller written with pulse-pounding precision and a deep understanding of the psychology of violence and the tenacity of those who combat it—announces the arrival of Sara Herchenroether as an exciting new voice.
Praise for The Night Flowers
Nuanced characters and artful prose complement the intricately crafted mystery, but what distinguishes Herchenroether's tale is her visceral, resonant recounting of Laura's cancer experience. . . . This author is off to a strong start.
— Publishers Weekly
Get ready to read through the night. . . . This is a grab-you-by-the-collar page-turner fans of dark thrillers won't want to miss.
— Debutiful
How refreshing to have three women protagonists in this cold case crime debut. . . . Herchenroether's fact-based novel speaks to all the missing women and children, and to breast cancer survivors everywhere.
— Center for Fiction
Pulse-pounding and poignant.
— Parade
Unforgettable. . . . Seasoned with supernatural suspense, including a killer who stalks the ghosts of his dead victims, The Night Flowers is an entertaining crime thriller enhanced with the engaging personal dramas of the two women investigating the triple homicide.
— Shelf Awareness
A librarian and a detective team up to solve a cold case in New Mexico's Gila National Forest? Yes, please.
— The Frontlist
Gripping. . . . Beautiful and haunting. . . . This novel presents unique ways in which women bond with each other and confront their own vulnerabilities.
— Full Stop
A character-driven story that moves the reader to cheer as much for the discovery of the victim's identity as for the identification and capture of the murderer.
— Necessary Fiction
An affecting mystery-thriller that's hard to put down. . . . Set in New Mexico, which Herchenroether depicts exquisitely. . . . You're going to want to rip through this gripping book to get to the bottom of the mystery.
— Oh Reader
A clever cold case mystery with a haunting twist.
— JulzReads
Unique. . . . Part whodunnit, part missing-person drama, with a sprinkle of ghost story. . . . Well worth a read.
— Guilford Courier
The Night Flowers will satisfy anyone seeking a Bechdel test-passing novel with supernatural overtones and a frank look at what it means to be a survivor.
— Locus
Haunting and compulsively readable, The Night Flowers is impossible to put down. A novel that is as much ghost story as mystery, Herchenroether has crafted a truly original narrative that unfolds with a shocking array of twists and turns against the backdrop of the Gila National Forest. Every voice in the chorus that makes up this novel sings a siren song of suspense you won't be able to resist. I devoured it.
— Katy Hays, author of The Cloisters
Hypnotic, heart-wrenching, and harrowing, The Night Flowers is an exceptional debut. The twisted path of long-buried wrongs coming to light will keep you on the edge of your seat. Still, it's the honest exploration of violence, trauma, and scars that never heal that will haunt you. Sara Herchenroether is a true talent.
— Hilary Davidson, bestselling author of Her Last Breath
Sara Herchenroether's astonishing, intricate debut is a deeply nuanced portrayal of those called to name the dead. A cold case detective and soon-to-be grandmother, a genealogist librarian recovering from breast cancer, and the ghost of a murdered woman are the unforgettable heroines of a novel about confronting—and transcending—mortality. Like Tana French meets Ann Patchett, The Night Flowers begs to be raced through the first time and savored the second. Sara Herchenroether is a fierce talent with much to say about women's strength in their most vulnerable moments.
— Katie Gutierrez, bestselling author of More Than You'll Ever Know
The Night Flowers is so many things: a murder mystery, a ghost story, a meditation on violence and the fragility of the body. Compelling, insightful, and evocative.
— Jane Pek, author of The Verifiers