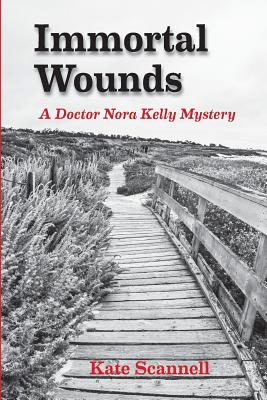 Immortal Wounds: A Doctor Nora Kelly Mystery
This product is not returnable.
Publication Date:
September 22nd, 2018
Publisher:
Word Haven Media Inc
Usually Ships in 1 to 5 Days
Description
A doctor, struggling to recover from a devastating family trauma, is drawn back into her life during a perilous quest to solve the mystery of multiple deaths among the staff at Oakland City Hospital.
It's a normal workday for Dr. Nora Kelly--as normal as it can be after the traumatic loss of her family two years ago. She steps into the ER at Oakland City Hospital, wrestling with grief and self-doubt about her ability to continue practicing medicine. Early retirement increasingly appeals.
But there's a corpse in the hospital's business office and more to follow as havoc begins to descend on Nora and her colleagues. The mystery behind the mayhem draws Nora back into life and work, her once-renowned diagnostic acumen resurrected under extreme peril. At the same time, her self-redemptive quest to solve the mystery unearths a deeply personal and painful question--one that reaches into the core of who she is and what she believes.
FROM THE BACK COVER
"Immortal Wounds is a compelling, richly textured mystery that draws us deeply into the cloistered world of the hospital. A murderer or two may be on the loose in Scannell's thriller, but the psychological struggles and ethical mysteries encountered daily by her doctors and nurses prove just as riveting. A must-read "
-- Jodi Halpern, MD, author of From Detached Concern to Empathy: Humanizing Medical Practice
ACCLAIM FOR Death of the Good Doctor: Lessons from the Heart of the AIDS Epidemic
"This haunting memoir is an important addition to the canon of AIDS literature. Scannell writes beautifully and with an insight that escapes most physicians."
-- Abraham Verghese, author of My Own Country and Cutting for Stone
"Kate Scannell is the rare doctor who has been transformed by her patients. In this irresistible, informative, and enormously moving book, she tells us not only her own story, but theirs."
-- Gloria Steinem
"A remarkable book, part history, part memoir, that reads with the grace and eloquence of good fiction."
-- Bay Area Reporter
"... an enormously moving, thoughtful and compassionate memoir."
-- Minneapolis Star-Tribune
ACCLAIM FOR Flood Stage--A Novel
"Touching and poignant, Flood Stage is a fine novel that shouldn't be missed."
-- Midwest Book Review
"Kate Scannell brings to life the diverse characters in Flood Stage in a way that allowed me to inhabit their hearts and minds. ... It has enriched my life and I believe it will enrich yours."
-- M. Lance Reynolds