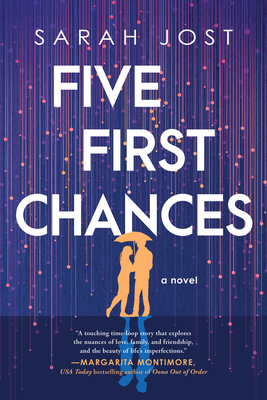 Five First Chances: A Novel
Publication Date:
April 18th, 2023
Publisher:
Sourcebooks Landmark
BOOK ENDS Winchester
2 on hand, as of Sep 23 9:13am
(FICTION)
On Our Shelves Now
Description
"A compassionate ode to the beautiful messiness of being human." — Glendy Vanderah
"Reminiscent of Matt Haig's The Midnight Library and Rebecca Serle's In Five Years." — Booklist
A life-affirming debut that blends a poignant exploration of friendship and loss with a truly unforgettable love story.
What would you do if you had one more chance for the life of your dreams?
Lou feels like she is stuck on the wrong path: alone, in a city far from home, watching other people be happy. When the man she's in love with announces his engagement to someone else, Lou is consumed by 'what ifs'.
That's when she finds herself slipping back in time to a night two years ago, where one small decision changed everything...
Suddenly, Lou has a chance to fix her mistakes. But as her choices lead her down roads she never could have imagined, she finds herself stuck in a time loop of her own making. And with each slip, Lou notices her life intersecting with one person again and again. A friend of a friend who once lived on the periphery, who is slowly becoming the one person who makes her feel like she might finally be on the right track.
Lou is about to realize that our greatest love stories aren't always the ones we expected, but are the ones we choose to fight for.
For anyone who has ever felt stuck on the wrong path comes a stunning, time-bending love story that challenges what it means to get things "right." This is a book that will pull at your heartstrings and make you realize that our world is full of inspiring people poised to change everything...and you might just be one of them.
Praise for Five First Chances: A Novel
"An engaging debut, with a time-travel element that allows thoughtful character development and structure. This novel will be popular with romance and domestic-fiction readers and is reminiscent of Matt Haig's The Midnight Library and Rebecca Serle's In Five Years" — Booklist
"Jost tugs at the heartstrings in her tearjerker debut...Anyone who has ever wished for a do-over will see themselves in Jost's poignant tale of love lost and found." — Publishers Weekly
"Jost's brilliant debut is a fascinating exploration of how the choices we make affect our relationships, and ultimately our ability to feel good about our lives. Full of hope and heart, this book is a compassionate ode to the beautiful messiness of being human." — Glendy Vanderah, bestselling author of Where the Forest Meets the Stars
"Sarah Jost takes an irresistible concept and imbues it with tenderness and introspection. Five First Chances is a touching time loop story that explores the nuances of love, family, and friendship, and the beauty of life's imperfections." — Margarita Montimore, USA Today bestselling author of Oona Out of Order
"What rules of physics wouldn't you bend to bring back someone you loved? Sarah Jost's inventive debut is a heart-wrenching emotional rollercoaster that asks big questions about how to be at peace with our all-too-short mortal lives. A tender love story tucked inside a larger tale of a woman coming into her own, this lightly magical fable of love won and lost is perfect for fans of Rebecca Serle and Josie Silver." — Ashley Winstead, author of The Boyfriend Candidate and The Last Housewife
"A clever, thoughtful exploration of what could have been--and what might still be, if only we had the chance to try again. In First Five Chances, Sarah Jost expertly weaves a compelling time loop concept with profound themes of friendship, family, loss, and love." — Shauna Robinson, author of The Banned Bookshop of Maggie Banks
"Captivating and poignant, Five First Chances is a reminder that every risk we take can bring us closer to the life we were meant to lead. Jost will break your heart but hold onto the pieces with care." — Annette Christie, author of The Rehearsals and For Twice in My Life