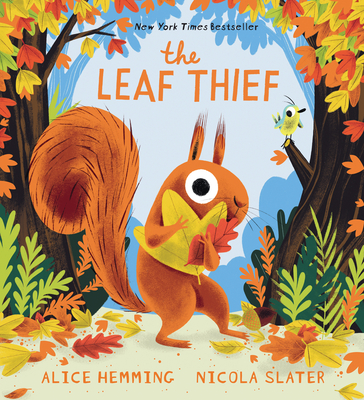 The Leaf Thief (A Squirrel & Bird Book)
Publication Date:
August 3rd, 2021
Publisher:
Sourcebooks Jabberwocky
Usually Ships in 1 to 5 Days
Description
A New York Times Bestseller!
Perfect for fans of Fletcher and the Falling Leaves, The Leaf Thief is a funny picture book that teaches kids about autumn, adapting to change, and the seasons.
Squirrel loves counting the leaves on his tree—red leaves, gold leaves, orange, and more. But hold on! One of his leaves is missing! On a quest to find the missing leaf, Squirrel teams up with his good friend Bird to discover who the leaf thief could be among their forest friends.
With vibrant art and captivating characters, the magic of autumn is captured beautifully on each page as readers tag along Squirrel's forest adventure. Is there truly a leaf thief afoot, or is something else going on in Squirrel's forest? A perfect exploration of change—both seasonal, and the anxiety that change sometimes causes. Bonus material explaining about the changing of the seasons. Poised to be a new fall classic.
Pick up The Leaf Thief if you are looking for:
A classic read for ages 4 and up
Back to school books, ideal for your classroom, homeschool curriculum, and more!
Seasonal and educational stories about the changing seasons
About the Author
Alice Hemming has worked as a librarian, a website editor, and university outreach manager. She lives in Hertfordshire, England.alicehemming.co.uk
Nicola Slater is a full-time illustrator. She lives in Cheshire, England.
Praise for The Leaf Thief (A Squirrel & Bird Book)
"This is such a silly story of how one little squirrel misunderstands the concept of leaves falling off the trees in the autumn months... The colors are bright and little details add a touch of humor[.]" — Youth Services Book Review, STARRED review
"The personalities of animals who're ready for hibernation are captured in the bemused details of this fun seasonal story, from a tiny bird's decorated house to Squirrel's own warm, happy home." — Foreword
"Squirrel's wildly dramatic, misguided, and hyperpossessive reaction to a routine seasonal event becomes a rib-tickling farce through clever use of varying type sizes and weights emphasizing his absurd verbal pronouncements as well as exaggerated, comic facial expressions and body language." — Kirkus Reviews