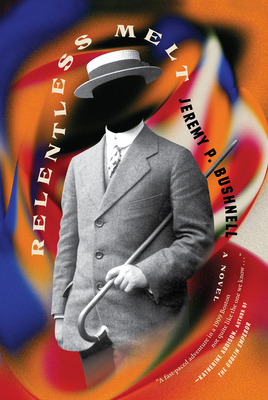 Relentless Melt
Publication Date:
June 6th, 2023
Publisher:
Melville House
BOOK ENDS Winchester
1 on hand, as of Dec 9 9:14am
(FICTION)
On Our Shelves Now
Description
"Stylishly put together with a vein of dark humour…" Financial Times, Best Books of 2023 - Science Fiction

"A supernatural mystery—part Stranger Things, part Enola Homes, but very much itself... This book is way, way over the top—and is sure to delight its intended audience." -- firstCLUE

Stranger Things meets the Golden Age of Detective fiction in a rollicking supernatural detective thriller that introduces Artie Quick, a sales assistant at Filene's in Boston, who moonlights as an amateur detective.
The year is 1909, and Artie Quick—an ambitious, unorthodox and inquisitive young Bostonian—wants to learn about crime. By day she holds down a job as a salesgirl in women's accessories at Filene's; by night she disguises herself as a man to pursue studies in Criminal Investigation at the YMCA's Evening Institute for Younger Men.  
Eager to put theory into practice, Artie sets out in search of something to investigate. She's joined by her pal Theodore, an upper-crust young bachelor whose interest in Boston's occult counterculture has drawn him into the study of magic. Together, their journey into mystery begins on Boston Common—where the tramps and the groundskeepers swap rumors about unearthly screams and other unsettling anomalies—but soon Artie and Theodore uncover a series of violent abductions that take them on an adventure from the highest corridors of power to the depths of an abandoned mass transit tunnel, its excavation suspiciously never completed.
Will Theodore ever manage to pull off a successful spell? Is Artie really wearing that men's suit just for disguise or is there something more to it?  And what chance do two mixed-up young people stand up against the greatest horror Boston has ever known, an ancient, deranged evil that feeds on society's most vulnerable?
Praise for Relentless Melt
A Financial Times "Best Science Fiction of 2023" pick

"Gripping...full of magic, government conspiracies, and heroic kids." - Necessary Fiction
"A lot of the fun of Relentless Melt comes from watching the clever-but-naive Artie discover the ugly reality of detective work, and the corruption of Boston's establishment... a simple conceit gives rise to an ornate picture, full of conspiracies and dense lore. Relentless Melt passes the ultimate test of world-creation: The more you learn, the more you still want to discover." --Charlie Jane Anders for The Washington Post

"Relentless Melt is the most inventive, appealing, and entertaining piece of fiction." --Reviewing the Evidence
"Bushnell (The Weirdness) seamlessly blends mystery, urban fantasy, and an exploration of gender identity into the kind of fun and fantastical ride that his readers have come to expect. Recommend to fans of TJ Klune and Kevin Wilson." --Library Journal, STARRED review
"With its well-tuned characters and imaginative approach to historical fiction, Relentless Melt succeeds in making readers wonder what else might be out there lurking in the unseen corners and crevices of the city, and eager to follow along and find out." --WBUR.org
"A supernatural crime thriller with a terrifying secret at the heart of an American institution. Bushnell weaves together a story of gender identity, adventure, and the things that go bump in the dark." --Gizmodo
"Bushnell skillfully blends genres in this charming supernatural mystery set in 1909 Boston...Quick is a hugely endearing lead, and the solution to the mystery is likely to surprise even seasoned genre fans. This is an off-kilter delight." -- Publishers Weekly
"Bushnell's third novel blends an atmospheric supernatural mystery with an intriguing exploration of gender identity... Bushnell keeps his fantastical elements light but believable... An entertaining urban fantasy." -- Kirkus

"In Relentless Melt, you will find murder, dark magic and an evil presence beneath the streets of Boston that threatens the life of every inhabitant living on the surface. Expertly crafted by Bushnell, this relentless read creates some great chills and unforgettable plot twists that show off his talents in the best of ways." --Bookreporter.com

"The narrative moves confidently from a convincing representation of Boston in the early years of the last century to a climax involving a confrontation with a terrifying paranormal presence.... Relentless Melt is the most inventive, appealing, and entertaining piece of fiction I've read in some time..." --Reviewing the Evidence
"Both an exploration of gender identity and a fast-paced adventure in a 1909 Boston not quite like the one we know, Relentless Melt is an exciting read with a compelling and deeply likeable protagonist."—Katherine Addison, author of The Goblin Emperor
"A supernatural mystery—part Stranger Things, part Enola Homes, but very much itself... This book is way, way over the top—and is sure to delight its intended audience." -- firstCLUE