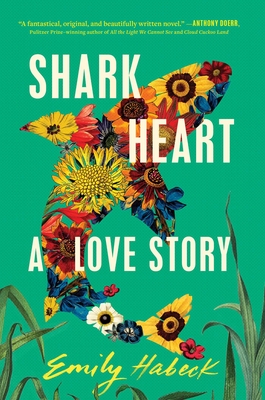 Shark Heart: A Love Story
Publication Date:
August 8th, 2023
Publisher:
S&S/ Marysue Rucci Books
BOOK ENDS Winchester
7 on hand, as of Oct 3 5:21pm
(FICTION)
On Our Shelves Now
Shark Heartis fascinating. The premise — some people genetically mutate into wild animal species — is told through stunning, poetic prose. Wholly original, heartbreaking yet hopeful, it explores how one woman meets loss with love.
August 2023 Indie Next List
Description
New York Times Editor's Choice
Newlyweds face the unimaginable in this epic tale about marriage, motherhood, and enduring love. "Surprising and pleasurably uncategorizable. Shark Heart is wild, in every sense of the word" (The New York Times Book Review).
For Lewis and Wren, their first year of marriage is also their last. A few weeks after their wedding, Lewis receives a rare diagnosis. He will retain most of his consciousness, memories, and intellect, but his physical body will gradually turn into a great white shark. As Lewis develops the features and impulses of one of the most predatory creatures in the ocean, his complicated artist's heart struggles to make peace with his unfulfilled dreams.
At first, Wren internally resists her husband's fate. Is there a way for them to be together after Lewis changes? Then, a glimpse of Lewis's developing carnivorous nature activates long-repressed memories for Wren, whose story vacillates between her childhood living on a houseboat in Oklahoma, her time with a college ex-girlfriend, and her unusual friendship with a woman pregnant with twin birds. Woven throughout this bold novel is the story of Wren's mother, Angela, who becomes pregnant with Wren at fifteen in an abusive relationship amidst her parents' crumbling marriage. In the present, all of Wren's grief eventually collides, and she is forced to make an impossible choice.
A sweeping love story that is at once lyrical and funny, airy and visceral, Shark Heart is an unforgettable, gorgeous novel about life's perennial questions, the fragility of memories, finding joy amidst grief, and creating a meaningful life. This daring debut marks the arrival of a wildly talented new writer abounding with originality, humor, and heart.
Praise for Shark Heart: A Love Story
"Beguiling… Habeck's setup allows her to grapple with big questions… [and] imbues the smallest interactions and moments with poetic weight… Surprising and pleasurably uncategorizable. Shark Heart is wild, in every sense of the word."
—New York Times Book Review
"A tender story about the endurance of a married couple's love… Vulnerable and devastating."
—PopSugar
"Raw, powerful, and delightfully unusual… [Shark Heart] is structurally and lyrically daring, so much so that its pages quickly envelop readers in its emotional challenges and magic… While it begs readers to contemplate what it means to be human, it also challenges them to look at their circumstances carefully and reminds them to be grateful for what they have at hand rather than dwelling on what they may have lost. Shark Heart is an unforgettable and much needed love story for a new, uncertain, and rapidly changing era."
–Southern Review of Books
 
"a sweet and heartbreaking tale highlighting the hiccups of marriage, motherhood, and grief."
—Cosmopolitan, "The 19 Summer Books That Are Must-Brings for Your Next Beach Vacay"
"A highly original, heart-rending story about abiding love that transcends trauma, grief—and even metamorphosis."
—Washington Post, "10 Noteworthy Books for July and August"
"Surprisingly moving, oddly heartwarming, and deeply contemplative."
—Bookpage
"Habeck's debut explores the nature of grief through deft and beautiful writing… Poetic interludes and play-like vignettes punctuate the lyrical prose"
—Booklist (Starred Review)
"A bit Shakespeare, a bit Kafka, and a bit Disney… [this] debut stands out from the pack."
—Kirkus Reviews
"A poignant tale of grief and change."
—Town and Country
"Shark Heart is a fantastical, original, and beautifully-written novel of abandonment, love, and Ovidian transformation. It explores illness, caretaking, devotion, magical thinking, and loss—and of course great white sharks—in ways that are funny, sad, and surprising. Every page bursts with heart.
—Anthony Doerr, Pulitzer Prize-winning author of All the Light We Cannot See and Cloud Cuckoo Land
"In Shark Heart, Emily Habeck doesn't shy away from the agony of goodbyes, or the torture that can accompany unexpected freedom. With an otherworldly tenderness, she reminds us that life will always demand that we give over to its momentum and adapt. The fact that these lessons are thrilling, hilarious, and effortless to read are the miracle of the book. I suspect I will ponder this book over and over; so rich with fantasy yet as frank and real as anything I've ever read."
—Mary Louise Parker, author of Dear Mr. You
"Shark Heart is one of those rare books that reaches right into you and reflects lived experience so exactly, and so poetically, that it feels like you're being seen. It wears its heart openly and unapologetically on its sleeve. Equal parts tenderly comedic and tragic, the book was a difficult one to read, but I'm so glad I did."
—Marianne Gordon, author of The Gilded Crown
'A stunning debut which grabs you with its unique style, holds you within its vulnerability and leaves you with a bittersweet aching. This is not just a story of love, it's a story of goodbyes. Habeck delivers an innovative and inspirational story that emotionally captures its readers until the end.'
—Fantasy Hive
 "A beautifully written, heart-wringing story about love and change, about moving forward—as a shark always must—and what is lost and what gained as we do so. Habeck has an extraordinary command of her writerly instrument, crafting sentence after sentence that feel effortless and yet are eloquent and penetrating and superb. This is the highlight of my reading-year so far."
—Adam Roberts, international bestselling author of Salt and The This