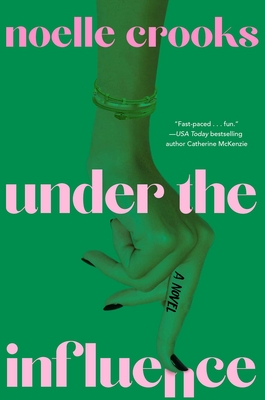 Under the Influence
Publication Date:
August 8th, 2023
BOOK ENDS Winchester
1 on hand, as of Dec 9 9:14am
(FICTION)
On Our Shelves Now
Description
The Devil Wears Prada meets The Assistants in this compulsively readable debut following a young woman who takes a job working for an enigmatic influencer and quickly discovers there's an ugly side to being a #GirlBoss.
After a series of go-nowhere jobs in the New York publishing world, Harper Cruz is broke, lonely, and desperate for a salary that won't leave her scrambling to make rent each month. So when she stumbles across a job posting from an influencer offering triple her last paycheck, she automatically submits her résumé.
Harper may not be familiar with self-help guru Charlotte Green, but her relentless optimism and charismatic can-do spirit has created a cult-like following of women across the country. When she selects Harper among thousands of other applicants in less than twenty-four hours, it's obvious she sees something she likes. Despite the pressure to accept the offer just as quickly as she's been given it, Harper decides to take a leap of faith and become the newest member of The Greenhouse.
Accepting the job means a move to Nashville, and Harper is quickly dazzled by the glamourous world Charlotte has built in Music City. The Greenhouse is more than a workplace—it's a family—and Harper soon finds herself swept into its inner circle. At first, she loves working in such an inspirational environment, where mandatory dance parties, daily intentions, and group bonding activities make up for long hours and Charlotte's persistent demands for loyalty. But the deeper Harper is pulled into Charlotte's world, the more she realizes that having it all and being it all comes with a price.
Praise for Under the Influence
"Crooks debuts with a magnetic story...Readers will gobble up this intelligent update on The Devil Wears Prada for the digital age."—Publishers Weekly
"Crooks' debut is a modern update to The Devil Wears Prada, emphasizing the all-too-common blurring of our personal and work lives. Harper's denial of Charlotte's True Nature is unsetlling yet authentic." —Booklist
"Hey, girl! Are you looking for a fast-paced read that will entertain you AND make you think about how much influence certain people have on your life? Of course you are! So stop whatever you're doing RIGHT NOW and grab a copy of Under the Influence. You'll fly through this fun insider take on the influencer industry the same way you did The Devil Wears Prada."—Catherine McKenzie, USA Today bestselling author of Please Join Us and Spin
"Compulsively readable, frightening but addictive, Under the Influence perfectly captures some of the contradictions and challenges of modern work life."—Shelf Awareness
"A very fun read...did not want to put it down. The book explores some of the darker sides of the [self-help influencer] industry: assistants who don't get credit, plagiarism, toxic positivity, I could go on. I really enjoyed this." –Grace Atwood, The Stripe