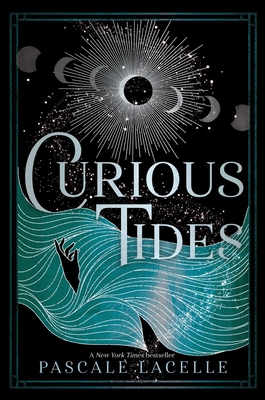 Curious Tides (The Drowned Gods Duology)
Publication Date:
October 3rd, 2023
Publisher:
Margaret K. McElderry Books
BOOK ENDS Winchester
1 on hand, as of Dec 9 9:14am
(YA FICTION)
On Our Shelves Now
Description
Ninth House meets A Deadly Education in this gorgeous dark academia fantasy following a teen mage who must unravel the truth behind the secret society that may have been involved in her classmates' deaths.
Emory might be a student at the prestigious Aldryn College for Lunar Magics, but her healing abilities have always been mediocre at best—until a treacherous night in the Dovermere sea caves leaves a group of her classmates dead and her as the only survivor. Now Emory is plagued by strange, impossible powers that no healer should possess.
Powers that would ruin her life if the wrong person were to discover them.
To gain control of these new abilities, Emory enlists the help of the school's most reclusive student, Baz—a boy already well-versed in the deadly nature of darker magic, whose sister happened to be one of the drowned students and Emory's best friend. Determined to find the truth behind the drownings and the cult-like secret society she's convinced her classmates were involved in, Emory is faced with even more questions when the supposedly drowned students start washing ashore—alive—only for them each immediately to die horrible, magical deaths.
And Emory is not the only one seeking answers. When her new magic captures the society's attention, she finds herself drawn into their world of privilege and power, all while wondering if the truth she's searching for might lead her right back to Dovermere…to face the fate she was never meant to escape.
Praise for Curious Tides (The Drowned Gods Duology)
*In the world of Lacelle's luminous debut, everyone is assigned to a house named for the phase of the moon during which they are born: new, waxing, waning, and full. A fifth, the House of Eclipse, is feared and loathed by the rest of society because they have access to a range of magic. Emory Ainsleif is a potential Healer in her sophomore year at Ardryn College, but last spring she was the only survivor in an accident where she and eight others, including her best friend Romie, were swept out of a cave at high tide. In search of answers about the accident and its aftermath, Emory now turns turns to Romie's brother, Baz, and the two embark on a complex journey. Lacelle's writing is absorbing; the plot is detailed and complicated but everything fits together as neatly and tightly as a puzzle box. Emory is a sympathetic hero, full of self-doubt but brave enough to pursue the truth, and she plays off an assortment of well-rounded and distinct characters. Not a word is wasted in this hefty, suspenseful novel as the story, rich with its own mythology, draws the reader in as inexorably as the tide. 
— Booklist, STARRED Review
Moon phases and tidal alignments dictate the magical abilities with which one is born in debut author Lacelle's alluring duology opener. The Dovermere Caves are off-limits for students of Aldryn College for Lunar Magics, so when Emory finds a note inviting her roommate and best friend, Romie, to a late-night meeting there, Emory follows out of curiosity and concern. As Romie and seven peers undergo a strange ritual, high tide floods the caverns, drowning four and washing Romie and three others out to sea. Following the event, Emory wakes on the beach with a spiral inked on her wrist and the ability to wield all forms of lunar magic, a mythical talent so heretical it could get her imprisoned. Bereft and terrified, Emory teams with Romie's brother, Baz, to control her newfound powers and uncover answers about that fateful evening—a quest that reveals her ties to secret societies, grand conspiracies, and ancient gods. By combining elements common to fantastical dark academia novels with innovative worldbuilding, multifaceted plotting, and an intersectionally diverse cast boasting nuanced character arcs, Lacelle crafts a lavishly imagined dual-narrative tale that will capture readers like a rip current. Ages 14–up. Agent: Victoria Marini, Irene Goodman Literary. (Oct.)
— Publishers Weekly, STARRED REVIEW
"A world that pulses and breathes. With intricate magic and a mystery that spirals as deep and dark as it can go, Curious Tides is a marvel in atmosphere."
— Chloe Gong, #1 New York Times bestselling author of These Violent Delights 
"A darkly enchanting story that had me turning pages like mad. Gorgeous writing, fascinating characters, and the kind of rich magical lore that dreams are made of. Curious Tides swept me away. I'm obsessed with this world."
— Claire Legrand, New York Times bestselling author of Furyborn
"Vividly imagined, beautifully written, and as dark as it is dazzling–Curious Tides will drag you under from the very first page."
— Sarah Underwood, NYT bestselling author of Lies We Sing to the Sea
"Curious Tides sucks you in from page one with a fully realized universe that feels lived-in and otherworldly all at once. The story is alive with lore, and it's impossible not to be transported."
— Joan He, New York Times bestselling author of Strike the Zither
"With chewy, intricate worldbuilding; sparkling characters; and thrilling twists, Curious Tides pulled me under, and I never wanted to resurface from its richly imagined depths. An alluring, immersive debut."
— Allison Saft, New York Times bestselling author of A Far Wilder Magic
"A beautifully ethereal fantasy that reads like a dream. Filled with beguiling magic and whimsical storytelling, Curious Tides is a reverie I was sad to wake from."
— Chelsea Abdullah, author of The Stardust Thief