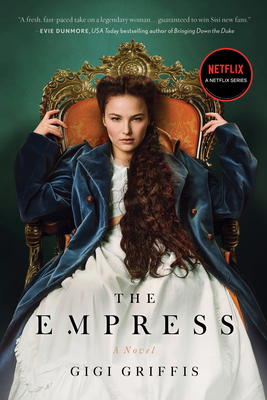 The Empress
Publication Date:
September 27th, 2022
Usually Ships in 1 to 5 Days
Description
"Sumptuous . . . Nothing in this story disappoints." --Publishers Weekly
"A fresh, fast-paced take on a legendary woman." --Evie Dunmore, USA Today bestselling author of Bringing Down the Duke

As seen on Netflix, The Empress is a captivating, vivid, and remarkably modern tale about falling in love and finding one's voice.
The year is 1853, and Princess Elisabeth "Sisi" of Bavaria has been very clear: She will wait for the head-over-heels love the poets speak of, or she will have no love at all. Just because her older sister, Helene, is eagerly heeding their mother's advice and preparing to marry Emperor Franz of Austria does not mean Sisi must also subject herself to such a dutiful existence. Sisi knows there is more to life than luncheons and corsets--if only someone would let her experience it all firsthand.
Meanwhile, in Austria, the emperor is recovering from an assassination attempt that left him wounded and scared. In a bid to keep the peace, Franz has recommitted himself to his imperial duties--and promised to romance the pliant Helene of Bavaria at his upcoming birthday celebration. How better to unite the empire than with the announcement of a new empress?
But when Sisi and Franz meet unexpectedly in the palace gardens, away from the prying eyes and relentless critique of the court, their connection cannot be denied. And as their illicit conversations turn into something more, they must soon choose between the expectations of their families and standing up for what they truly believe in . . .
About the Author
Gigi Griffis writes feminist historical fiction often featuring little-known histories and unruly female characters. She lives in Europe with an opinionated Yorkie mix named Luna, and spends her free time hiking the Alps, cycling around small villages, and eating as much French food as she can get her hands on. Her work has been featured in WestJet Magazine, Get Lost magazine, and Fodor's Travel, among others, and has been translated into French, Italian, Portuguese, and Estonian. The Empress is Gigi's adult novel debut.