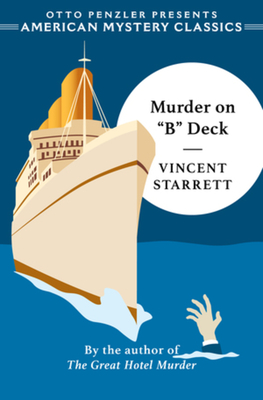 Murder on "B" Deck (An American Mystery Classic)
Publication Date:
January 18th, 2022
Publisher:
American Mystery Classics
BOOK ENDS Winchester
1 on hand, as of Dec 9 9:14am
(MYSTERY)
On Our Shelves Now
Description
A 1920s cruise ship is destined for destruction in this cozy mystery by the author of The Great Hotel Murder.
For the passengers aboard the Latakia, the transatlantic journey from New York to Cherbourg promises weeks of rest and relaxation, no matter what class of ticket they have. But after an Italian baroness is found strangled in her cabin, the situation on board becomes more tense. The main suspect soon goes overboard, creating more questions than answers: Did a guilty conscience spur a suicidal act, or was he a witness silenced by the true killer, still at large on the luxury liner. 
Enter former intelligence officer Walter Ghost, tapped by the ship's captain to play detective and solve the murder. He's joined by his friend Dunsten Mollock, a novelist whose experience with mystery stories gives him helpful insights into the case. With clues including an amateur film, a doll, and a card from Memphis, Tennessee, it seems the duo have plenty to work with. But will they be able to solve the crime before word of the murder makes it into the steamship's rumor mill, surely sending any guilty persons even deeper into hiding?
Originally published in 1929 and out of print for nearly a century, Murder on "B" Deck is a puzzling-yet-humorous whodunnit set in the Golden Age of transatlantic travel.
Includes discussion guide questions for use in book clubs.
Praise for Murder on "B" Deck (An American Mystery Classic)
Starrett makes the most of the setting and populates it with an array of potential suspects. This definitely merits being labeled an American Mystery classic.
— Publishers Weekly STARRED REVIEW
Starrett was a Holmes expert, and this first of three Walter Ghost novels, published in 1929, delivers a frothy and thoroughly entertaining spin on the theme of a big-brained amateur sleuth and his admiring sidekick. Ghost is more William Powell than Basil Rathbone, but that's hardly a bad thing, especially aboard a luxury liner. Another winner from the American Mystery Classics series.
— Booklist