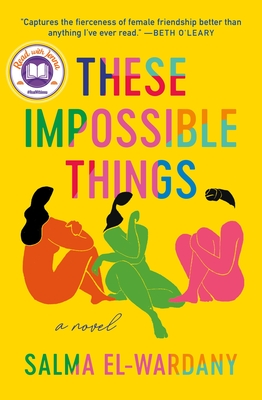 These Impossible Things: A Novel
Publication Date:
June 6th, 2023
Publisher:
Grand Central Publishing
BOOK ENDS Winchester
3 on hand, as of Dec 9 9:14am
(FICTION)
On Our Shelves Now
Description
A Read With Jenna Book Club pick! 
 
Three best friends navigate love, sex, faith—and the one night that changes it all—in this novel that reveals "searing and poignant truths about the female experience" (Ashley Audrain, NYT bestselling author of The Push)
 
Whatever happened to the way we were?
It's always been Malak, Kees, and Jenna against the world. Since childhood, under the watchful eyes of their family and community, these three best friends have had to navigate love, sex, faith, and womanhood alongside the expectations of being good Muslim women. But they've always done it together.
Malak wants the dream: for her partner, community, and faith to coexist happily, and she'll even break her own heart to get it. Kees is in love with Harry, a white Catholic man who her parents can never know about. Jenna is always the life of the party, even though she's plagued by an unshakable loneliness. But when their college years come to a
close, one night changes everything.
As their lives take different paths, in the wake of heartbreaks, marriages, new careers and new beginnings, Malak, Kees, and Jenna need each other more than ever. Can they forgive and find a way back to each other in time?
These Impossible Things is a moving paean to youth and female friendship—and to all the joy and messiness love holds.
 
Praise for These Impossible Things: A Novel
"A fun, witty, sharply observant work.... El-Wardany captures perfectly the uncertainty of life in one's mid-20s…. readers will be thinking about Malak, Kees, and Jenna long after they close the book."—Library Journal (starred review)
"The complex characters are well observed and the prose is often moving... Fresh, witty, and insightful, this is an auspicious start."
 —Publishers Weekly
"Sparkling, incisive debut… While frothy and chatty, with witty dialogue and plenty of weddings and other gatherings that spark interactions among the characters, the book doesn't shy away from more serious issues... This novel is blessed by a light touch and evenhanded treatment of its two generations of characters."—Kirkus
"These Impossible Things is an addictive portrait of three Muslim friends moving through a pivotal time in womanhood, caught between expectation and possibility, hungry to earn wisdom of their own. Salma El-Wardany deftly reveals searing and poignant truths about the female experience, ones so rarely confronted in fiction. What a gift to be inside this author's mind through the pages of her beautiful and memorable writing."—Ashley Audrain, New York Times bestselling author of The Push
"This is the essential book on sisterhood that I needed to read. Beautifully written and gorgeous, Salma El-Wardany is a brilliant writer and this is a story I will never forget."—Nikita Gill, poet and author of Wild Embers
"I can't remember the last time a book consumed me like this. I truly, truly loved it. It's so beautifully written, full of warmth and love and insight; Malak, Kees and Jenna stole into my heart and stayed there. This novel captures the fierceness of female friendship better than anything I've ever read. It is a book I know I will still be thinking about for many years to come."—Beth O'Leary, international bestselling author of The Flatshare and The Road Trip
"Salacious, incisive, and unapologetically Muslim, Salma El-Wardany's bold and brilliant story doesn't shy away from the taboo subjects of religion and sex. These Impossible Things shows that Muslim women are multifaceted and complex despite the dearth of representation we are allowed."—Blair Imani, activist and bestselling author of Read This to Get Smarter
"Moving, telling, glorious; girlhood giving way to something urgent and beginning. This is a bracing, tender exploration of friendship, family and faith and their gaping complications. Irresistible."—Yrsa Daley-Ward, bestselling author of Bone and The How