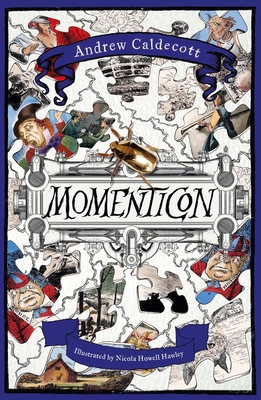 Momenticon
Publication Date:
May 2nd, 2023
Publisher:
Jo Fletcher Books
BOOK ENDS Winchester
1 on hand, as of Oct 3 5:21pm
(SCF/FANTASY)
On Our Shelves Now
Description
From Andrew Caldecott, the author of the ROTHERWEIRD trilogy, comes a dark, enigmatic, compelling new adventure: think Alice in Wonderland meets Station Eleven, played out in places where paintings come to life.
The world is on the brink of utter destruction. Despite the climate activists' best efforts, the atmosphere has turned toxic, destroying plant life, animals, and most of humanity too.
The few survivors live in domes protected from the lethal smog, serving Tempestas and Genrich, the world's last two great companies. They both have plans for mankind's future, but their visions are very different - and an uneasy collaboration between them is about to end, with desperate consequences.
But not everyone is bound to the companies: far from these centers of power stands the Museum Dome, where persons unknown have assembled mankind's finest paintings and artifacts. Fogg, the curator, thinks he must be the last man left alive, for in the three years he's been there, he's not had a single visitor, and his only company is AIPT, his automated physical trainer, who's very good when it comes to hamstrings and push-ups, but rubbish at actual conversation.
Then a single mysterious pill - a momenticon - appears in the Museum, proving he's not alone after all. Before Fogg knows what's hit him, he is embroiled in a desperate fight against time and the rival forces which threaten to overwhelm all that remains.
About the Author
Andrew Caldecott is a QC, an occasional playwright and author of the bestselling Rotherweird trilogy, Rotherweird, Wyntertide and Lost Acre, all published by Jo Fletcher Books. Momenticon, the first in a new speculative fiction series, will be followed by Simul. Andrew lives in London.