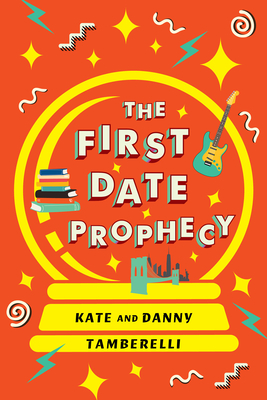 The First Date Prophecy: A Hilarious and Nostalgic Love Story
Publication Date:
June 27th, 2023
BOOK ENDS Winchester
4 on hand, as of Oct 3 5:21pm
(FICTION - ROMANCE)
On Our Shelves Now
Description
"A joyous, nostalgic rom-com romp in which the authors' love for each other dazzles through." —Emily Wibberley and Austin Siegemund-Broka, authors of The Roughest Draft
Readers of Christina Lauren and Emily Henry will adore this new read from the 90's Nickelodeon star of All That and The Adventures of Pete and Pete as he teams up with his real-life wife for an entertaining, big-hearted, and truly laugh-out-loud debut rom-com set in Brooklyn, steeped in 90's nostalgia, and inspired by their very own love story.
Brooklyn-based aspiring writer Lucy Minninger has no trouble putting the comedy in her rom-coms. It's the romance part of the equation that's the problem. But even as the rejection slips pile up, and her second dates dwindle, Lucy refuses to give up hope—or her HeartThrobs™ dating profile . . .
Former child star Rudy Riziero made his mark on some of the most popular kids shows of the ՚90s. But that early success has pigeonholed him into a stand-up routine riffing on his past work, while the slick single life he envisioned was clearly a fantasy. He's actually ready for a relationship, if he could just find someone uninterested in who he used to be . . .
When Lucy and Rudy match online, they're eager to meet. But after their first date ends in a psychic's prophecy that is equal parts great fortune and certain doom, their flirty quips end and their search for answers to some of life's big questions begins: Is there really one person for everyone? Do destinies really intertwine? Where can you find the best tacos in Brooklyn?
And when it matters most, will they throw caution—and fate—to the wind, trust their instincts—and write their own futures?
"Will keep you entertained to the last page." —Melissa Joan Hart
"A beautiful, fun, and complex love story." –screenwriters Emily V. Gordon and Kumail Nanjiani (The Big Sick)
"This '90s nostalgia–tinged love story will leave rom-com fans smiling and swooning." —Library Journal STARRED REVIEW
Praise for The First Date Prophecy: A Hilarious and Nostalgic Love Story
Praise for The First Date Prophecy
"The real-life romance between the authors inspired this novel…Some excellent side characters, especially Lucy's quirky landlords, and the understandably fraught relationship between Rudy and his hunky brother who stayed in Hollywood round out this well-written, sweet story with some heat. This '90s nostalgia–tinged love story will leave rom-com fans smiling and swooning." —Library Journal, STARRED REVIEW
"Balancing laugh out loud comedy with heartfelt emotion, the first collaboration between married writing duo Kate Tamberelli and debut author Danny Tamberelli explores the pitfalls and frustrations of online dating…The characters' eccentricities feel entirely authentic, while subplots about family drama and friend groups growing apart add nuance and poignancy to this sweet romp. Rom-com fans should snap this up." —Publishers Weekly
"I snorted once a page on average and sometimes involuntarily. Tom Robbins for the Tinder generation. The Tamberellis employ an uncommon attention to detail and tell their story from an intimate, at times cringe worthy perspective that elevates the comedy with the kind of lived in ring of truth all good writing has." —Matt Doherty, actor, The Mighty Ducks and So I Married an Axe Murderer
"Vulnerable without being verbose, the authors are skilled at plumbing the depths of these characters and lend an air of self-assured authenticity to the courtship proceedings. You can both read The First Date Prophecy, but if you do it together at a bar, that would be a little…on the nose." —Michael C. Maronna, actor, The Adventures of Pete and Pete and Home Alone
"A love story as delightful and idiosyncratic as its authors." —Mara Wilson, actress, Mrs. Doubtfire and Matilda
"A dynamic 'he said, she said' of the current dating scene that will keep you entertained to the last page." —Melissa Joan Hart
"As funny and charming as Kate and Danny are in real life, which says a lot." —Lane Moore, author of You Will Find Your People: How To Make Meaningful Friends As An Adult, and How To Be Alone
"A luminous, hilarious romance that is both equal parts magical and a heartwarming reminder that when it comes to love, we make our own fate." —Ashley Herring Blake, author of Delilah Green Doesn't Care

"The First Date Prophecy is a gorgeous, inspiring, and hilarious tale that also somehow manages to incorporate all of my favorite snacks and beverages. Perhaps more importantly, it made me believe in love and Brooklyn again. There—I said it. If Kate and Danny don't write another book together immediately, I will be completely enraged." —Dave Hill, comedian and author of Parking the Moose
"The First Date Prophecy is a joyous, nostalgic rom-com romp in which the authors' love for each other dazzles through. We're delighted we had the excellent fortune of enjoying this iconic read!" —Emily Wibberley and Austin Siegemund-Broka, authors of Do I Know You? and The Roughest Draft
"Lots of rom-com stories are heavy on the rom and light on the com. This one brings the COM! It also provided for many excellent squeals of delight as I rooted for the heroes. Unputdownable! I took it with me everywhere until I finished." —Marguerite Moreau, actress, Wet Hot American Summer and The Mighty Ducks
"Romance, comedy, tacos, psychics, life, death, and love—The First Date Prophecy has it all. A beautiful, fun, and complex love story told by a beautiful, fun, and complex couple." —Kumail Nanjiani and Emily V. Gordon, co-authors of The Big Sick
"Such a fun and satisfying read!!! It left me with a very warm feeling all around!" —Jo Firestone, comedian, actor and writer
"The Tamberelli's have spun a tale of pure nostalgic gold out of their love story for our joyous consumption. Warm, comedic, and utterly original." —Lauren Ho, author of Last Tang Standing and Lucie Yi Is Not A Romantic
Praise for the novels of Katelyn Detweiler (Kate Tamberelli):

"Family, friendship, and love convene in The People We Choose, Katelyn Detweiler's sensitive novel about a teenager's revelatory summer. . . . Wise about irrevocable facts, The People We Choose is a modern novel in which love expands to encompass once-strangers and friendships that are close because of honesty." —Foreword Reviews

"A sweet reminder that family extends beyond the bounds of blood." —Kirkus Reviews on The People We Choose

"Perfect for readers struggling with questions of how far to go to protect those you love. Detweiler, a literary agent and author, knows both sides of publishing, and it shows, giving this novel an extra oomph of realism. Thistle is affable and easy to commiserate with, and, despite her increasingly complicated situation, her plight is lovingly and respectfully written. —Booklist on The Undoing of Thistle Tate