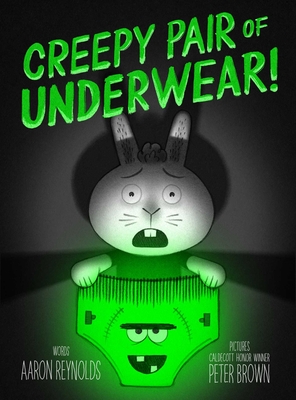 Creepy Pair of Underwear! (Creepy Tales!)
Publication Date:
August 15th, 2017
Publisher:
Simon & Schuster Books for Young Readers
BOOK ENDS Winchester
1 on hand, as of Sep 23 1:20pm
(JPB JUVENILE PICTURE BOOK)
On Our Shelves Now
Description
From the celebrated team behind Creepy Carrots!, Aaron Reynolds and Caldecott Honor winner Peter Brown, comes a hilarious (and just a little creepy) story of a brave rabbit and a very weird pair of underwear.
Jasper Rabbit is NOT a little bunny anymore. He's not afraid of the dark, and he's definitely not afraid of something as silly as underwear. But when the lights go out, suddenly his new big rabbit underwear glows in the dark. A ghoulish, greenish glow. If Jasper didn't know any better he'd say his undies were a little, well, creepy. Jasper's not scared obviously, he's just done with creepy underwear. But after trying everything to get rid of them, they keep coming back!
Praise for Creepy Pair of Underwear! (Creepy Tales!)
* "This strikes the ideal balance between frightening and hilarious, and like the underwear itself, readers are guaranteed to keep coming back for this storytime platinum!"
— Booklist - Starred Review
"Reynolds dives even farther into elementary-grade horror here, balancing nicely between humorous and haunting in tone and events....Young horror fans will fall immediately in love with the terrifying undies and hope that accompanying merch is in the works."
— Bulletin of the Center for Children's Books
* "Balances a really spooky premise with the hilarity that accompanies any mention of underwear....Perfect for those looking for a scary Halloween tale that won't leave them with more fears than they started with."
— Kirkus Reviews - starred review
* "Once again, Reynolds and Brown are in perfect comedic synch as they channel the surprises and creeping dread of a thriller. Brown's noir-style b&w illustrations make the most of the premise, and the innate absurdity of being afraid of one's undergarments will be a surefire winner with many kids."
— Publisher's Weekly - starred review
"First introduced in Creepy Carrots, Jasper's antics are equally humorous and appropriately but safely spooky. VERDICT An enjoyable and comfortably spine-tingling picture book for a Halloween or any day storytime."
— School Library Journal
"Humorous text...captures Jasper's age-appropriate not-quite-a-big-kid dilemma. Brown's noirish...illustrations—black, white, gray, and Day-Glo green—heighten both the silliness and the spookiness that are on display in equal measure."
 
— The Horn Book