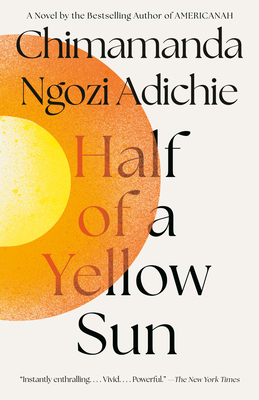 Half of a Yellow Sun
Publication Date:
September 4th, 2007
Usually Ships in 1 to 5 Days
This powerful and dramatic story is set in Nigeria in the 1960s, against the hopes and disappointment of the struggle for a Biafran republic. Adichie balances the political turmoil with three compelling point-of-view characters. Lushly written and emotionally haunting, this book contributes new faces to our understanding of the human costs of race, class, and ethnic struggles in our world.
Fall '08/Winter '09 Reading Group List
Description
NATIONAL BOOK CRITICS CIRCLE AWARD FINALIST • From the award-winning, bestselling author of Americanah and We Should All Be Feminists—a haunting story of love and war. • Recipient of the Women's Prize for Fiction "Winner of Winners" award.
With effortless grace, celebrated author Chimamanda Ngozi Adichie illuminates a seminal moment in modern African history: Biafra's impassioned struggle to establish an independent republic in southeastern Nigeria during the late 1960s. We experience this tumultuous decade alongside five unforgettable characters: Ugwu, a thirteen-year-old houseboy who works for Odenigbo, a university professor full of revolutionary zeal; Olanna, the professor's beautiful young mistress who has abandoned her life in Lagos for a dusty town and her lover's charm; and Richard, a shy young Englishman infatuated with Olanna's willful twin sister Kainene.
Half of a Yellow Sun is a tremendously evocative novel of the promise, hope, and disappointment of the Biafran war.
Praise for Half of a Yellow Sun
A New York Times Notable Book and a National Book Critics Circle Award Finalist
"A gorgeous, pitiless account of love, violence and betrayal during the Biafran war." —Time

"Instantly enthralling. . . . Vivid. . . . Powerful . . . A story whose characters live in a changing wartime atmosphere, doing their best to keep that atmosphere at bay." —The New York Times

"Ingenious. . . . [With] searching insight, compassion and an unexpected yet utterly appropriate touch of wit, Adichie has created an extraordinary book." —Los Angeles Times

"Brilliant. . . . Adichie entwines love and politics to a degree rarely achieved by novelists. . . . That is what great fiction does–it simultaneously devours and ennobles, and in its freely acknowledged invention comes to be truer than the facts upon which it is built." —Elle