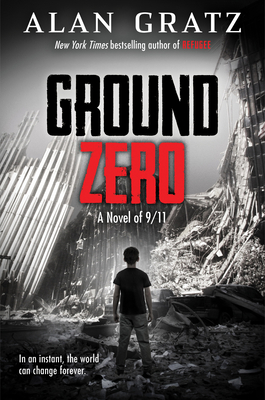 Ground Zero
Publication Date:
February 2nd, 2021
Publisher:
Scholastic Press
Usually Ships in 1 to 5 Days
As expected, Gratz has delivered another powerful punch with Ground Zero. Brandon's story begins on September 11, 2001, and Reshmina's on September 11, 2019. How do they connect? With devastating narration, they tell their heartbreaking stories. Can they find common ground? Can the world? As we are reminded in the book, this is history for everyone now in school. We adults remember where we were. I was sitting with students who had parents working in the North Tower. Six of those parents never came home. Gratz puts us in the middle of the attacks with horrific accuracy and guides us back to hope.
Spring 2021 Kids Indie Next List
Description
The instant #1 New York Times bestseller.
In time for the twentieth anniversary of 9/11, master storyteller Alan Gratz (Refugee) delivers a pulse-pounding and unforgettable take on history and hope, revenge and fear -- and the stunning links between the past and present.
September 11, 2001, New York City: Brandon is visiting his dad at work, on the 107th floor of the World Trade Center. Out of nowhere, an airplane slams into the tower, creating a fiery nightmare of terror and confusion. And Brandon is in the middle of it all. Can he survive -- and escape?
September 11, 2019, Afghanistan: Reshmina has grown up in the shadow of war, but she dreams of peace and progress. When a battle erupts in her village, Reshmina stumbles upon a wounded American soldier named Taz. Should she help Taz -- and put herself and her family in mortal danger?
Two kids. One devastating day. Nothing will ever be the same.
Praise for Ground Zero
Praise for Ground Zero:
* "The plot starts at a heart-pounding pace and never relents... In a superbly structured plot, the two protagonists experience similar perils, and both respond with determination and hope... A contemporary history lesson with the uplifting message that humanity's survival depends on us working for, not against, one another. A must-have." -- School Library Journal, starred review
* "The pace is quick (don't blink or you'll miss something!), its emotions deeply authentic, and the highly visual settings resonate with accuracy. With a moving author's note, pertinent back matter, and a surprise twist which brings the book full circle, Gratz delivers another winning read." -- Booklist, starred review
"Gratz's deeply moving writing paints vivid images of the loss and fear of those who lived through the trauma of 9/11." -- Kirkus Reviews
Praise for Allies:
* "A tour de force of war fiction." -- Booklist, starred review
* "Both an excellent, inclusive narration of important historical events and a fast-paced, entertaining read." -- Kirkus Reviews, starred review
* "A tautly paced and multifaceted portrait. . . . This gripping novel offers memorable insights into the contributions and alliances of everyday people." -- Publishers Weekly, starred review
* "A vivid and detailed snapshot of the D-Day Invasion from multiple complex and diverse characters . . . meticulously researched [and] honest." -- School Library Journal, starred review
Praise for Grenade:
* "Told by both young men, the story is gripping from start to finish as each encounters ambushes, engages in battles and experiences their devastating aftermath, and mourns the plight of innocent civilians caught in the middle. Impossible to put down, the story unapologetically demonstrates how war affects people emotionally and physically. . . . Action fans will have this flying off the shelves." -- Booklist, starred review
"The plot is suspenseful and the characters sympathetic." -- Horn Book
"Intense and fast-paced, this is a compelling, dark, yet ultimately heartening wartime story." -- Kirkus Reviews
"Gratz (Refugee) depicts the events and fallout of WWII's 'Love Day' while exploring the emotional and cultural damages of war." -- Publishers Weekly
"Chilling." -- School Library Journal
"The book illustrates the horrors of war and the narrators' dual realization that the enemy is a person, too. This is a sad and compelling story that sheds some light on a battle that is rarely mentioned in books written for juvenile readers. . . . Highly Recommended." -- School Library Connection
Praise for Refugee:
An Amazon Best Book of the Year
A Publishers Weekly Best Book of the Year
A Kirkus Best Book of the Year
A Texas Bluebonnet Master List selection
"Unflinching and sympathetic." -- The New York Times
"Grade A: A stunning, poignant novel." -- Entertainment Weekly
"Harrowing, timely." -- People Magazine
"A gripping, visceral, and hold-your-breath intense story." -- John Green, #1 New York Times bestselling author of The Fault in Our Stars
* "Gratz accomplishes a feat that is nothing short of brilliant, offering a skillfully wrought narrative laced with global and intergenerational reverberations that signal hope for the future... Poignant, respectful, and historically accurate while pulsating with emotional turmoil, adventure, and suspense." -- Kirkus Reviews, starred review
* "[A] hard-hitting novel... Filled with both tragic loss and ample evidence of resilience, these memorable and tightly plotted stories contextualize and give voice to current refugee crises, underscoring that these journeys are born out of a desperate need for security and safety." -- Publishers Weekly, starred review
"Gratz, who is known for well-written and well-researched historical fiction, doesn't disappoint. His latest is timely and moving... This compelling novel will help young people make sense of today's refugee crisis. Meant to be read, discussed, and shared widely." -- School Library Journal
"Some novels are engaging and some novels are important. Refugee is both." -- #1 New York Times bestselling author Ruta Sepetys
"This heart-stopping novel is not only compelling -- it is necessary." -- Judy Blundell, National Book Award-winning author of What I Saw and How I Lied
"An incredibly important, heartrending, edge-of-the-seat read, bringing light to the plight of immigrants who search for safety and freedom." -- Pam Muñoz Ryan, author of the New York Times bestseller and Newbery Honor Book Echo
"With urgent, clear-eyed storytelling, Gratz's Refugee compellingly explores the desperation and strength that unites those struggling for a place to call home." -- Eliot Schrefer, New York Times bestselling author and two-time National Book Award finalist of Rescued and Endangered
"Full of struggle, heroism, and non-stop adventure, Refugee is not only an important book, it's a terrific story." -- Kimberly Brubaker Bradley, author of the New York Times bestseller and Newbery Honor Book The War That Saved My Life
"Powerful and compelling. Refugee is a story about what unites us all." -- Christina Diaz Gonzalez, award-winning author of Moving Target
Praise for Projekt 1065:
* "While the book is replete with fascinating historical insight, Gratz has also crafted a suspenseful mystery that will keep readers on the edge of their seats. With short, action-packed chapters, it is a great choice for reluctant readers as well... A winning combination of action, suspense, and historical setting." -- School Library Journal, starred review
* "A rare insider's glimpse into the Hitler Youth: animated, well-researched, and thought-provoking." -- Kirkus Reviews, starred review
"[A] high-action spy thriller." -- Booklist
Praise for Code of Honor:
"Readers will be swept up by both the intrigue and the rapid pacing... Kamran is a smart and sympathetic narrator, and readers will be happy to spend time with him in this action-packed thriller." -- Kirkus Reviews
"Exciting, at times ripped from the headlines, and scary, this cinematic work has layers of intrigue and danger in each scene... will appeal to a variety of readers and will raise questions about patriotism, loyalty, and trust... A winner." -- School Library Journal
"Vivid characters and timely topics, such as posttraumatic stress disorder, contribute to making Code of Honor a first-rate novel." -- Voice of Youth Advocates
Praise for Prisoner B-3087:
A Junior Library Guild Selection
Golden Sower Award, 2014-2015 Winner Nebraska
Isinglass Teen Read Award, 2014-2015 Winner New Hampshire
Pennsylvania Young Readers' Choice Award, 2014-2015 Winner
Junior Book Award, 2015-2016 Winner South Carolina
Grand Canyon Reader Award, 2015-2016 Winner Arizona
Truman Readers Award, 2015-2016 Winner Missouri
Reader's Choice Awards, Winner 2015-2016 Virginia
Volunteer State Book Award Winner, 2015-2016 Tennessee
"A powerful story, well told." -- School Library Journal
"A bone-chilling tale not to be ignored." -- Kirkus Reviews
"[A] remarkable survival story." -- Booklist
"Gratz ably conveys... fatalism, yearning, and determination in the face of the unimaginable." -- Publishers Weekly
"Heartbreaking, gripping, raw, and emotional... storytelling at its finest." -- Voice of Youth Advocates
Praise for Ground Zero:
* "The pace is quick (don't blink or you'll miss something!), its emotions deeply authentic, and the highly visual settings resonate with accuracy. With a moving author's note, pertinent back matter, and a surprise twist which brings the book full circle, Gratz delivers another winning read." -- Booklist, starred review
"Gratz's deeply moving writing paints vivid images of the loss and fear of those who lived through the trauma of 9/11." -- Kirkus Reviews
Praise for Allies:
* "A tour de force of war fiction." -- Booklist, starred review
* "Both an excellent, inclusive narration of important historical events and a fast-paced, entertaining read." -- Kirkus Reviews, starred review
* "A tautly paced and multifaceted portrait. . . . This gripping novel offers memorable insights into the contributions and alliances of everyday people." -- Publishers Weekly, starred review
* "A vivid and detailed snapshot of the D-Day Invasion from multiple complex and diverse characters . . . meticulously researched [and] honest." -- School Library Journal, starred review
Praise for Grenade:
* "Told by both young men, the story is gripping from start to finish as each encounters ambushes, engages in battles and experiences their devastating aftermath, and mourns the plight of innocent civilians caught in the middle. Impossible to put down, the story unapologetically demonstrates how war affects people emotionally and physically. . . . Action fans will have this flying off the shelves." -- Booklist, starred review
"The plot is suspenseful and the characters sympathetic." -- Horn Book
"Intense and fast-paced, this is a compelling, dark, yet ultimately heartening wartime story." -- Kirkus Reviews
"Gratz (Refugee) depicts the events and fallout of WWII's 'Love Day' while exploring the emotional and cultural damages of war." -- Publishers Weekly
"Chilling." -- School Library Journal
"The book illustrates the horrors of war and the narrators' dual realization that the enemy is a person, too. This is a sad and compelling story that sheds some light on a battle that is rarely mentioned in books written for juvenile readers. . . . Highly Recommended." -- School Library Connection
Praise for Refugee:
An Amazon Best Book of the Year
A Publishers Weekly Best Book of the Year
A Kirkus Best Book of the Year
A Texas Bluebonnet Master List selection
"Unflinching and sympathetic." -- The New York Times
"Grade A: A stunning, poignant novel." -- Entertainment Weekly
"Harrowing, timely." -- People Magazine
"A gripping, visceral, and hold-your-breath intense story." -- John Green, #1 New York Times bestselling author of The Fault in Our Stars
* "Gratz accomplishes a feat that is nothing short of brilliant, offering a skillfully wrought narrative laced with global and intergenerational reverberations that signal hope for the future... Poignant, respectful, and historically accurate while pulsating with emotional turmoil, adventure, and suspense." -- Kirkus Reviews, starred review
* "[A] hard-hitting novel... Filled with both tragic loss and ample evidence of resilience, these memorable and tightly plotted stories contextualize and give voice to current refugee crises, underscoring that these journeys are born out of a desperate need for security and safety." -- Publishers Weekly, starred review
"Gratz, who is known for well-written and well-researched historical fiction, doesn't disappoint. His latest is timely and moving... This compelling novel will help young people make sense of today's refugee crisis. Meant to be read, discussed, and shared widely." -- School Library Journal
"Some novels are engaging and some novels are important. Refugee is both." -- #1 New York Times bestselling author Ruta Sepetys
"This heart-stopping novel is not only compelling -- it is necessary." -- Judy Blundell, National Book Award-winning author of What I Saw and How I Lied
"An incredibly important, heartrending, edge-of-the-seat read, bringing light to the plight of immigrants who search for safety and freedom." -- Pam Muñoz Ryan, author of the New York Times bestseller and Newbery Honor Book Echo
"With urgent, clear-eyed storytelling, Gratz's Refugee compellingly explores the desperation and strength that unites those struggling for a place to call home." -- Eliot Schrefer, New York Times bestselling author and two-time National Book Award finalist of Rescued and Endangered
"Full of struggle, heroism, and non-stop adventure, Refugee is not only an important book, it's a terrific story." -- Kimberly Brubaker Bradley, author of the New York Times bestseller and Newbery Honor Book The War That Saved My Life
"Powerful and compelling. Refugee is a story about what unites us all." -- Christina Diaz Gonzalez, award-winning author of Moving Target
Praise for Projekt 1065:
* "While the book is replete with fascinating historical insight, Gratz has also crafted a suspenseful mystery that will keep readers on the edge of their seats. With short, action-packed chapters, it is a great choice for reluctant readers as well... A winning combination of action, suspense, and historical setting." -- School Library Journal, starred review
* "A rare insider's glimpse into the Hitler Youth: animated, well-researched, and thought-provoking." -- Kirkus Reviews, starred review
"[A] high-action spy thriller." -- Booklist
Praise for Code of Honor:
"Readers will be swept up by both the intrigue and the rapid pacing... Kamran is a smart and sympathetic narrator, and readers will be happy to spend time with him in this action-packed thriller." -- Kirkus Reviews
"Exciting, at times ripped from the headlines, and scary, this cinematic work has layers of intrigue and danger in each scene... will appeal to a variety of readers and will raise questions about patriotism, loyalty, and trust... A winner." -- School Library Journal
"Vivid characters and timely topics, such as posttraumatic stress disorder, contribute to making Code of Honor a first-rate novel." -- Voice of Youth Advocates
Praise for Prisoner B-3087:
A Junior Library Guild Selection
Golden Sower Award, 2014-2015 Winner Nebraska
Isinglass Teen Read Award, 2014-2015 Winner New Hampshire
Pennsylvania Young Readers' Choice Award, 2014-2015 Winner
Junior Book Award, 2015-2016 Winner South Carolina
Grand Canyon Reader Award, 2015-2016 Winner Arizona
Truman Readers Award, 2015-2016 Winner Missouri
Reader's Choice Awards, Winner 2015-2016 Virginia
Volunteer State Book Award Winner, 2015-2016 Tennessee
"A powerful story, well told." -- School Library Journal
"A bone-chilling tale not to be ignored." -- Kirkus Reviews
"[A] remarkable survival story." -- Booklist
"Gratz ably conveys... fatalism, yearning, and determination in the face of the unimaginable." -- Publishers Weekly
"Heartbreaking, gripping, raw, and emotional... storytelling at its finest." -- Voice of Youth Advocates