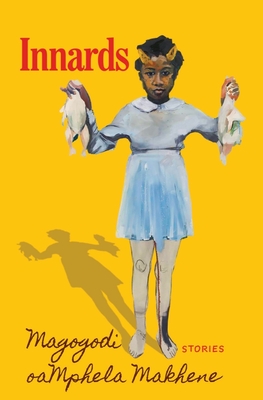 Innards: Stories
Publication Date:
June 6th, 2023
Publisher:
W. W. Norton & Company
BOOK ENDS Winchester
1 on hand, as of Dec 9 9:14am
(FICTION)
On Our Shelves Now
Description
This incendiary debut of linked stories narrates the everyday lives of Soweto residents, from the early years of apartheid to its dissolution and beyond.
Set in Soweto, the urban heartbeat of South Africa, Innards tells the intimate stories of everyday black folks processing the savagery of apartheid with grit, wit, and their own distinctive bewildering humor. Rich with the thrilling textures of township language and life, it braids the voices and perspectives of an indelible cast of characters into a breathtaking collection flush with forgiveness, rage, ugliness, and beauty. Meet a fake PhD and ex-freedom fighter who remains unbothered by his own duplicity, a girl who goes mute after stumbling upon a burning body, twin siblings nursing a scorching feud, and a woman unraveling under the weight of a brutal encounter with the police. At the heart of these stories about deceit and ambition, appalling violence, familial turmoil, and love is South Africa's history of slavery, colonization, and apartheid. Like many Americans today, Innards' characters must navigate the shadows of the recent past alongside the uncertain opportunities of the promised land.
Full to bursting with life, in all its complexities and vagaries, Innards is an uncompromising depiction of black South Africa. Visceral and tender, it heralds the arrival of a major new voice in contemporary fiction.
Praise for Innards: Stories
A gut punch of a collection.…Makhene brings together interlocking narratives that astonish as they reveal how malignant political forces can both ravage and vitalize the human spirit.
— Laura Warrell - New York Times Book Review
An unforgettable debut that hits with all the force of the sun. Complex and breathtaking, Innards is a book haunted by apartheid's monstrous shadow and illuminated by the radiant talent of one of our generation's most original voices. Makhene writes like liberation should feel: transcendently.
— Junot Díaz, Pulitzer Prize–winning author of This is How You Lose Her and The Brief Wondrous Life of Oscar Wao
Innards by the brilliant Magogodi Makhene is a wonder. Magnificent and devastating.
— NoViolet Bulawayo, author of Glory and We Need New Names
Innards reads like a relay of fearless, burning emblems, each story lit by the one before and each igniting the next. Beautiful, lethal, funny, righteous visions… ablaze with the utterly familiar and the utterly mysterious. This work is prophetic—not because it shows us what will be, but because it shows us how it all really is. Simply, marvelous.
— Paul Harding, Pulitzer Prize–winning author of This Other Eden
Linked stories of life in Soweto, South Africa, animate the region's fraught history of colonization and apartheid. Makhene shapes her debut story collection around suburban Soweto, from its inception during apartheid as the South-Western Townships until its eventual incorporation into Johannesburg proper.…Makhene's vividly rendered stories are propulsive and challenging.
— Kirkus Reviews (starred review)
A much-needed addition to contemporary fiction.... Makhene's stories capture the heart and soul of the Soweto people through her rich use of the vernacular and celebration of their lives. Readers will feel deeply connected to these characters.
— Booklist (starred review)