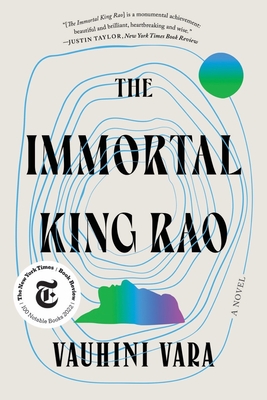 The Immortal King Rao: A Novel
Publication Date:
April 4th, 2023
Publisher:
W. W. Norton & Company
BOOK ENDS Winchester
1 on hand, as of Oct 3 5:21pm
(FICTION)
On Our Shelves Now
Description
Finalist for the 2023 Pulitzer Prize in Fiction
Nominated for the 2022 NBCC John Leonard Prize
Named a Best Book of the Year by NPR, Esquire, Vox, Philadelphia Inquirer, and Literary Hub
In an Indian village in the 1950s, a precocious child is born into a family of Dalit coconut farmers. King Rao will grow up to be the most accomplished tech CEO in the world and, eventually, the leader of a global, corporate-led government.
In a future in which the world is run by the Board of Corporations, King's daughter, Athena, reckons with his legacy—literally, for he has given her access to his memories, among other questionable gifts.
With climate change raging, Athena has come to believe that saving the planet and its Shareholders will require a radical act of communion—and so she sets out to tell the truth to the world's Shareholders, in entrancing sensory detail, about King's childhood on a South Indian coconut plantation; his migration to the U.S. to study engineering in a world transformed by globalization; his marriage to the ambitious artist with whom he changed the world; and, ultimately, his invention, under self-exile, of the most ambitious creation of his life—Athena herself.
The Immortal King Rao, written by a former Wall Street Journal technology reporter, is a resonant debut novel obliterating the boundaries between literary and speculative fiction, the historic and the dystopian, confronting how we arrived at the age of technological capitalism and where our actions might take us next.
Praise for The Immortal King Rao: A Novel
Utterly, thrillingly brilliant. From the first unforgettable page to the last, The Immortal King Rao is a form-inventing, genre-exploding triumph. Vauhini Vara's bravura debut has reshaped my brain and expanded my heart.
— R.O. Kwon, author of The Incendiaries
In this richly imagined saga spanning past, present, and future, Vauhini Vara brings us a visionary who makes the world in his image, and the strong-willed daughter whose life could be his final legacy. Vara's brilliance is matched only by her heart, and this unforgettable debut will challenge what you think you know about genius, capitalism, consciousness, and what it means to be human.
— Anna North, author of Outlawed
Vara comes out the gate with a masterwork: a book that is three great novels in one–the tale of a thriving and chaotic Dalit clan in the first decades of independent India; an immigrant success story in '80s America; and a dystopian nightmare of the post-Trump future.
— Karan Mahajan, author of The Association of Small Bombs
The Immortal King Rao is an odyssey of the grandest scale, spanning over a century and charting a Dalit immigrant's rise to world power. Vauhini Vara fuses intricate family lore with the history of tech solutionism and capitalist demagoguery, pointing forward to a dangerously likely future of corporate dominion; she writes with the meticulous clarity of a longform journalist, the explosive force of a Trident missile, and the ambition of her own brilliant protagonists.
— Tony Tulathimutte, author of Private Citizens
An exacting writer of the digital age, journalist Vara makes her debut with a trippy novel that marries the family saga with a biotech satire. … Vara has a gift for humanizing the invisible labor that happens behind our screens. Who, if anyone, can really separate themselves from the digital ties that bind us?
— Jessica Jacolbe - Vulture
A brilliant and beautifully written book about capitalism and the patriarchy, about Dalit India and digital America, about power and family and love.
— Alex Preston - The Observer
Alternating between Rao's childhood in a small Indian village, his early student days in the US, and the dystopian society in which Athena has to function, Vara's original debut delivers challenging and weighty themes with a sure hand.
— Poornima Apte - Booklist (starred review)
A fully imagined world: propulsive, prophetic, dizzying.
— Jeet Thayil, author of Names of the Women
An astonishing debut. An amazing imagination. Vara's voice is thrilling, original, dynamic and ever-surprising as her characters move from world to world, from the real to the fantastic, examining the myriad contradictory shapes in which love can appear.
— Chitra Banerjee Divakaruni, author of The Last Queen