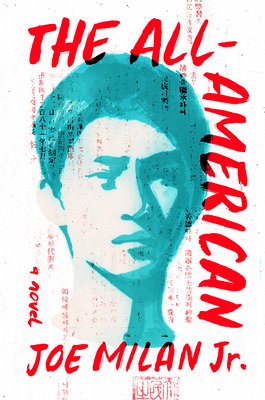 The All-American: A Novel
Publication Date:
April 4th, 2023
Publisher:
W. W. Norton & Company
BOOK ENDS Winchester
1 on hand, as of Dec 9 9:14am
(FICTION)
On Our Shelves Now
Description
Introducing a character as viscerally believable and unforgettable as any in fiction, The All-American is a triumph—full of energy, dark humor, suspense, and hard-won wisdom.
Seventeen-year-old Bucky Yi knows nothing about his birth country of South Korea or his bio-dad's disappearance; he can't even pronounce his Korean name correctly. Running through the woods of rural Washington State with a tire tied to his waist, his sights are set on one all-American goal: to become a college football player.
So when a misadventure with his adoptive family leads the U.S. government to deport him to South Korea, he's forced to navigate an entirely foreign version of his life. One mishap leads to another, and as an outsider, Bucky has to fall back on not just his raw physical strength, but resources of character and attitude he didn't know he had. In an expat bar in Seoul, in the bleak barracks of his Korean military, on a remote island where an erratic sergeant fights a shadow-war with North Korean spies, and in the remote town where he seeks out his drunken, indebted biological father, Bucky has to assemble the building blocks of a new language and stubbornly rebuild himself from scratch. That means managing his ego, insecurities, sexual desires, family legacies, and allegiances in order to make it back home—wherever that might be—and determine who he is to himself, who he is to others, and what kind of man he wants to become.
Praise for The All-American: A Novel
A compulsively readable page-turner that continues to surprise. The novel burns.
— Krys Lee, author of How I Became a North Korean
With lean, propulsive prose, Joe Milan Jr. has created an unforgettable character in American fiction. Part high drama, part dark comedy of the absurd, The All-American is as wonderfully entertaining as it is moving, and I simply could not put it down.
— Andre Dubus III, author of Townie
An irreverent, bold page-turner, self-assured and engrossing, this is one of those rare first novels that breathes new life into the journey toward self-revelation. Endlessly rewarding.
— Mat Johnson, author of Invisible Things
A potent, spellbinding novel about the meaning of family and the pull of home. Joe Milan Jr. is a writer with guts and talent.
— Jean Chen Ho, author of Fiona and Jane
A funny and heartbreaking novel that gets to the heart of our post-national world.
— Jess Row, author of White Flights
An explosively powerful, unpretentiously original, darkly comic novel about dreams fulfilled by the most unexpected, convoluted path. There are no model minorities, no redemptions, neither heroes nor villains, only those who strive against the odds.
— Xu Xi, author of Habit of a Foreign Sky
With the speed, power, and vision of a superior running back, Joe Milan Jr. renders Bucky's odyssey with extraordinary energy and urgency.
— Chris Bachelder, author of The Throwback Special
A profoundly moving meditation on nationhood, belonging, and the possibility of rebirth. With this incredible debut, Joe Milan Jr. has rocketed himself into the literary stratosphere.
— Junot Diaz, Pulitzer Prize–winning author of The Brief Wondrous Life of Oscar Wao
Milan sustains in his narrator an amusingly bewildered, blundering, bumptious voice along with a leavening sense of absurdity…An unusual take on undocumented immigration that makes for a strong debut.
— Kirkus (starred review)