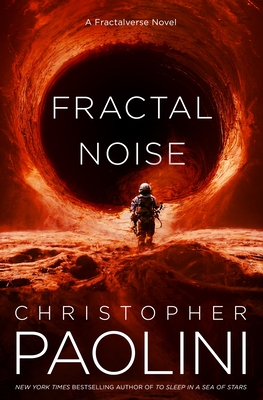 Fractal Noise: A Fractalverse Novel
Publication Date:
May 16th, 2023
BOOK ENDS Winchester
3 on hand, as of Oct 3 5:21pm
(SCF/FANTASY)
On Our Shelves Now
Description
A new blockbuster science fiction adventure from world-wide phenomenon and #1 New York Times bestseller Christopher Paolini, set in the world of New York Times and USA Today bestseller To Sleep in a Sea of Stars.
Instant New York Times bestseller

July 25th, 2234: The crew of the Adamura discovers the anomaly.
On the seemingly uninhabited planet Talos VII: a circular pit, 50 kilometers wide.
Its curve not of nature, but design.
Now, a small team must land and journey on foot across the surface to learn who built the hole and why.
But they all carry the burdens of lives carved out on disparate colonies in the cruel cold of space.
For some the mission is the dream of the lifetime, for others a risk not worth taking, and for one it is a desperate attempt to find meaning in an uncaring universe.
Each step they take toward the mysterious abyss is more punishing than the last.
And the ghosts of their past follow.
The Fractalverse Series
To Sleep in a Sea of Stars
Fractal Noise
Praise for Fractal Noise: A Fractalverse Novel
Instant New York Times bestseller
"Breathes new life into the classic first encounter narrative. . . . Paolini makes the experiences of his well-shaded explorers vivid and gripping through smart worldbuilding and believable stakes. James S.A. Corey fans will be especially riveted."—Publishers Weekly, starred review
"Breathes new life into the classic first encounter narrative. . . . Paolini makes the experiences of his well-shaded explorers vivid and gripping through smart worldbuilding and believable stakes. James S.A. Corey fans will be especially riveted."—Publishers Weekly, starred review
"This pulse-pounding science-fiction novel pits human curiosity and technology against alien tech deep in the cosmos. . . . An excellent starting point for the series as a whole."—Library Journal
"Paolini understands that in the best character-driven science-fiction stories, the alien tech is never as interesting as the human relationships. Tense and gripping."—Kirkus Reviews
"Mounting tension, danger, and uncertainty. . . . Shows Paolini's range as a storyteller."—Booklist
Praise for Christopher Paolini and the Fractalverse series:
"Vibrant world building.... A large cast of interesting and relatable characters.... Sincere emotional depth. Highly recommended for fans of James A. Corey's The Expanse series and for fantasy fans willing to try space opera."—Booklist, starred review
"A powerful piece of SF, with intelligent writing and big ideas."—Adrian Tchaikovsky, author of Children of Time
"Fans of all kinds, one can be sure, will come to question, and stay to explore."—The Wall Street Journal
"Dazzles with otherworldly delights—and unearthly nightmares."—Newsweek
"An authentic work of great talent."—New York Times Book Review
"Paolini is a spellbinding fantasy writer."—The Boston Globe
"A breathtaking and unheard of success."—USA Today

"Christopher Paolini is a true rarity."—The Washington Post
"Christopher Paolini make[s] literary magic."—People