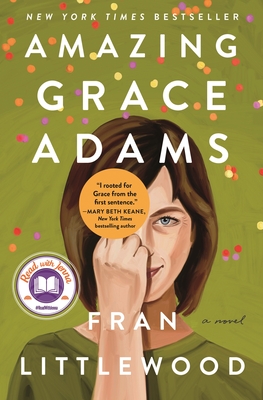 Amazing Grace Adams: A Novel
Publication Date:
September 5th, 2023
Publisher:
Henry Holt and Co.
BOOK ENDS Winchester
3 on hand, as of Dec 9 9:14am
(FICTION)
On Our Shelves Now
A moving novel about a mother grappling with a past tragedy and oncoming perimenopause. Estranged from her daughter and with a pending divorce, she fights back and shows her family who she really is and how she will not give up on them. Or herself.
September 2023 Indie Next List
Description
New York Times Bestseller
A Today Show #ReadwithJenna Book Club Pick

"I dare you not to fall wildly in love with Grace...It's a book about love, about grace, about even when we fall from those we love we can always find our way home...You will laugh on the first page and you will keep laughing until you're crying on the last page." ―Jenna Bush Hager, The Today Show's #ReadwithJenna

Bernadette, Eleanor Oliphant, Rosie, Ove . . . meet Amazing Grace Adams, the funny, touching, unforgettable story of an invisible everywoman pushed to the brink—who finally pushes back.
Grace Adams gave birth, blinked, and now suddenly she is forty-five, perimenopausal and stalled—the unhappiest age you can be, according to the Guardian. And today she's really losing it. Stuck in traffic, she finally has had enough. To the astonishment of everyone, Grace gets out of her car and simply walks away.
Grace sets off across London, armed with a £200 cake, to win back her estranged teenage daughter on her sixteenth birthday. Because today is the day she'll remind her daughter that no matter how far we fall, we can always get back up again. Because Grace Adams used to be amazing. Her husband thought so. Her daughter thought so. Even Grace thought so. But everyone seems to have forgotten. Grace is about to remind them . . . and, most important, remind herself.
Praise for Amazing Grace Adams: A Novel
A Today Show #ReadwithJenna Book Club Pick
An Instant New York Times Bestseller
An Indie Next Pick for September 2023

"I dare you not to fall wildly in love with Grace...It's a book about love, about grace, about even when we fall from those we love we can always find our way home...You will laugh on the first page and you will keep laughing until you're crying on the last page." —Jenna Bush Hager, The Today Show's #ReadwithJenna
"Grace Adams is also the latest in a series of brilliant, beautiful and privileged protagonists (Amy Dunne, Bernadette Fox, Barbie) undone by the challenges of modern womanhood." —The New York Times Book Review
"A gripping story of joy, grief, stress, worry, love at first sight, parenting...frank, nuanced, and evocative."
—Kirkus
"Hugely enjoyable. Compelling, funny and poignant. I devoured it."
—Paula Hawkins, #1 New York Times bestselling author of The Girl On The Train
"I just adored this beautiful debut novel! Funny, moving and at times absolutely heartbreaking, it had me captivated until the very last page. An unforgettable read."
—Liane Moriarty, New York Times bestselling author of Big Little Lies
"From the first hot minute when Grace Adams, stalled in traffic, stuck in her car, simply opens the door and walks away from it all—into her day, the single day that gathers all her days up to this tipping point at the middle, she had me. How life in the middle of our lives breaks us open—and apart—and then open again. I finished her story on a plane above the country, so full, and in tears. 'Ma'am?' my seat-mate asked, 'are you ok?'
'Oh, yes,' I answered. And gave him this book."
—Sarah Blake, New York Times bestselling author of The Postmistress and The Guest Book
"Amazing Grace Adams is an exacting and brilliantly structured novel about love, grief, hope lost and then found again. I rooted for Grace from the first sentence."
—Mary Beth Keane, New York Times bestselling author of Ask Again, Yes
"Fran Littlewood has written a magnificent novel. Grace Adams is everywoman – filled with promise, trepidatious in love and eventually, a besotted mother. Amazing Grace Adams is a fully realized story of catastrophe and joy, grief and love, and the hidden chambers of the human heart that carry the best and worst of our experience. A stunning debut."
–Adriana Trigiani, bestselling author of The Good Left Undone
"I can't remember the last time I read a novel with such unbridled enthusiasm. Amazing Grace Adams is a raw, uproariously hilarious portrait of parenthood, love, and family; it's also a profound examination of the way language can both save us and fail us when we need it the most. I'd walk across London on the hottest day of the year with Fran Littlewood—hell, I'd walk anywhere with her. I'm begging you: read this book."
—Grant Ginder, author of Let's Not Do That Again and The People We Hate at the Wedding
"I devoured it. Vivid, visceral, and incredibly emotional. I laughed and sobbed."
—Tim Minchin, Tony Award nominee, Matilda the Musical and Groundhog Day the Musical