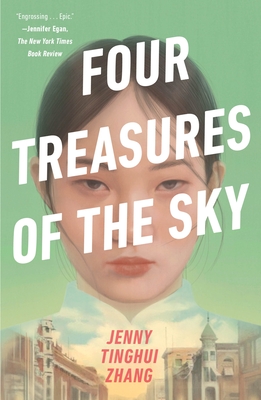 Four Treasures of the Sky: A Novel
Publication Date:
April 4th, 2023
Publisher:
Flatiron Books
BOOK ENDS Winchester
2 on hand, as of Dec 9 9:14am
(FICTION)
On Our Shelves Now
A stunning debut! Four Treasures of the Sky is pointed, heartbreaking, and breathtakingly beautiful. Indisputably a masterpiece, and I am already looking forward to whatever journey Zhang wants to take us on next.
April 2022 Indie Next List
Description
A NEW YORK TIMES NOTABLE BOOK · A NEW YORK TIMES BOOK REVIEW EDITOR'S CHOICE · REVIEWED ON THE FRONT COVER · INTERNATIONAL BESTSELLER
"Zhang's blend of history and magical realism will appeal to fans of Ta-Nehisi Coates' The Water Dancer as well as Amy Tan's The Valley of Amazement." —Booklist (starred review)

"Engrossing...Epic" (The New York Times Book Review) · "Transporting" (Washington Post) · "Propulsive" (Oprah Daily) · "Surreal and sprawling" (NPR) · "An absolute must-read" (BuzzFeed) · "Radiant" (BookPage)

A dazzling debut novel set against the backdrop of the Chinese Exclusion Act, about a Chinese girl fighting to claim her place in the 1880s American West
Daiyu never wanted to be like the tragic heroine for whom she was named, revered for her beauty and cursed with heartbreak. But when she is kidnapped and smuggled across an ocean from China to America, Daiyu must relinquish the home and future she imagined for herself. Over the years that follow, she is forced to keep reinventing herself to survive. From a calligraphy school, to a San Francisco brothel, to a shop tucked into the Idaho mountains, we follow Daiyu on a desperate quest to outrun the tragedy that chases her. As anti-Chinese sentiment sweeps across the country in a wave of unimaginable violence, Daiyu must draw on each of the selves she has been—including the ones she most wants to leave behind—in order to finally claim her own name and story.
At once a literary tour de force and a groundbreaking work of historical fiction, Four Treasures of the Sky announces Jenny Tinghui Zhang as an indelible new voice. Steeped in untold history and Chinese folklore, this novel is a spellbinding feat.
Praise for Four Treasures of the Sky: A Novel
A New York Times Notable Book
A New York Times Book Review Editors' Choice
A Finalist for the Chautauqua Prize
Longlisted for the Carnegie Medal for Excellence in Fiction
Longlisted for the VCU Cabell First Novelist Award
Winner of the Idaho Book of the Year
A Goodreads Choice Award Nominee
A Good Morning America Book Club Buzz Pick
An IndieNext Pick

A Best Book of the Year (The New York Times, TODAY, BookRiot, SheReads, Paste Magazine, Library Journal, Shelf Awareness)
A Most Anticipated Book (The New York Times Book Review, Washington Post, Oprah Daily, BuzzFeed, BookRiot, LitHub, Goodreads, The Millions, Bustle, Business Insider, Ms. Magazine, She Reads)
"Engrossing…Epic…Zhang's descriptive prose is an arresting combination of earthy and lyric...The resonance and immediacy of these barbarous 19th-century events are testament to Zhang's storytelling powers, and should stand as a warning to all of us."
—Jennifer Egan, The New York Times Book Review (cover review)

"A surreal and sprawling story…Historical fiction that lays bare the human tragedy behind the infamous Chinese Exclusion Act."
—Ayesha Rascoe, NPR Morning Edition

"Zhang's transporting story of perseverance in the face of shocking injustice resonates across cultures, and also feels sadly relevant to today's world."
—Washington Post

"The prides and prejudices of the Old West blaze to life in Zhang's propulsive, fable-like novel…Zhang skillfully embellishes her novel with Chinese characters, suggesting that language is our most potent weapon against oppression."
—Oprah Daily

"I love this book so much...A wonderful, important historical fiction book about the Chinese Exclusion Act."
—Good Morning America (Buzz Pick)

"Compelling, tragic, and poetic, this debut is an absolute must-read for literary fiction lovers."
—BuzzFeed
"Expansive and propulsive…Zhang has a talent for immersing readers into a variety of colorful, historical worlds."
—Daily Beast
"Sweeping…[Zhang] manages to build in delicate moments of beauty…[Daiyu's] defiant optimism in the face of what the reader knows are impossible dreams…gives her character strength and meaning. And her refusal to give up, even in the face of terrible odds is as inspiring as it is tragic."
—Paste Magazine
"[A] remarkably assured and executed debut...Zhang moves the story forward with an impressive command of tone, detail and emotional register...Even injustice cannot extinguish Daiyu's spirit, which is what makes Four Treasures of the Sky a rich reading experience. Faced with racism, hatred and fear, Daiyu stands on her own character, as bold and indomitable as one of Master Wang's perfectly drawn lines."
—California Review of Books
"Historical fiction at its most compelling and memorable…Generous, brutal, and heartbreaking…As a reader, you are in the hands of a gifted storyteller."
—New York Journal of Books
"Zhang's beautiful, limpid prose penetrates surfaces to illuminate the shadows or currents beneath without self-consciousness, the mark of excellent literary fiction…Brilliant."
—Historical Novel Society
"A devastating work of art."
—Shondaland

"Full of life."
—Bustle

"Beautifully-written…While Zhang is not the first Chinese-American writer to tackle the United States's shameful treatment of Chinese, her book certainly stands among the most memorable of these....Could not be more timely."
—The Asian Review of Books

"A dazzling combination of history, unforgettable voice and Chinese mythology that promises much more to come from this bright and devastating new talent. The protagonists of all the books that I read going forward are at a disadvantage: I will be comparing them to Lin Daiyu and her indelible spirit for years to come…This novel will stay with you long after you finish reading it."
—Bookreporter

"Radiant…A treasure of a debut…[Zhang's] first novel reveals storytelling skills both vast and specific, bringing shadowy history to light while also displaying a remarkable talent for sensory detail."
—BookPage (cover story)

"Zhang's debut novel imaginatively illuminates an often overlooked aspect of American history that resonates powerfully today, the Chinese Exclusion Act of 1882 and concurrent anti-Asian violence… Zhang's blend of history and magical realism will appeal to fans of Ta-Nehisi Coates' The Water Dancer as well as Amy Tan's The Valley of Amazement."
—Booklist (starred review)

"Fierce and moving…Zhang delves into the history of violence and prejudice against Chinese people in the U.S. with her debut, a lyrical and sweeping Bildungsroman…The author skillfully delineates the many characters and offers fascinating details on Chinese calligraphy and literature, along with an unsparing view of white supremacy."
—Publishers Weekly (starred review)

"Extraordinary…Those who want to learn about a little-known incident in Chinese-American history will be enlightened by this moving debut."
—Library Journal (starred review)

"Jenny Tinghui Zhang has given us characters to love and root for, and she has pinned to the page the daily devastations that they have faced…But what Zhang has also given us is the power of reclamation, of holding the brush in your own hand and telling your own story."
—Triangle House

"Jenny Tinghui Zhang uses her considerable talents to illuminate the shocking injustices the Chinese in this country suffered in the 1800s, and in doing so, makes us stop and consider how much of that cruelty and injustice survive to this day. Four Treasures of the Sky is an engulfing, bighearted, and heartbreaking novel."
—Ann Patchett, author of The Dutch House

"An astonishing novel propelled by private and public histories, rich with reflections on self-making, moral calling, great love, and profound injustice. Jenny Tinghui Zhang's writing enthralled me—it is as honed as a needle and as gorgeous as calligraphy."
—Megha Majumdar, author of A Burning

"An exhilarating rush of character, history, and storytelling. This novel of the American West illuminates the horrific realities of the Chinese Exclusion act of the 1880s. With unforgettable characters, resiliency, and poetic lyricism, Jenny Tinghui Zhang takes her readers on an unforgettable adventure. This carefully researched novel dazzles."
—Kali Fajardo-Anstine, author of Sabrina & Corina

"Brilliant and devastating, Four Treasures of the Sky tells the story of Daiyu, who is brought to America against her will and forced to hide who she is even as she grows into her true self. Weaving together myth and history, Zhang's work is both timeless and utterly necessary right now."
—Anna North, author of Outlawed

"In a sweeping adventure that spans China and the American West, Jenny Tinghui Zhang has crafted a thoughtful story of identity, love, and belonging."
—C Pam Zhang, author of How Much of These Hills Is Gold

"A revelation and a haunting, Four Treasures of the Sky is an instant and necessary classic, easily among the best novels of this decade. Jenny Tinghui Zhang is a sorcerer of words, weaving adventure, a fully realized history, and a story that lingers long after its final images. A true wonder."
—T Kira Madden, author of Long Live the Tribe of Fatherless Girls

"Jenny Tinghui Zhang captures the adventure, the isolation, the violence, and the glittering hope of the American West. The author's fine attention to historical and human detail has allowed her to bring alive a heroine for the ages, an indomitable teenage girl whose relentless spirit and self-reinvention carries this story. Daiyu is sure to take her place in the canon of great Western heroines next to True Grit's Mattie Ross."
—Juliet Grames, author of The Seven or Eight Deaths of Stella Fortuna

"To say Four Treasures of the Sky is unflinching doesn't do justice to the miraculous way in which Jenny Tinghui Zhang paints a neglected chapter in American history with sharp and devastating brushstrokes. This book is haunting, luscious, and precise—it's historical fiction as we most want and need it to be."
—Julia Fine, author of The Upstairs House and What Should Be Wild