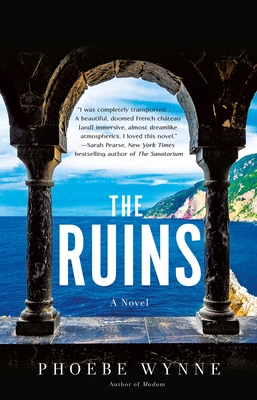 The Ruins: A Novel
Publication Date:
July 4th, 2023
Publisher:
St. Martin's Griffin
BOOK ENDS Winchester
1 on hand, as of Oct 3 5:21pm
(FICTION)
On Our Shelves Now
Description
The most dazzling summer casts the darkest shadows in Phoebe Wynne's thrilling gothic novel, The Ruins.
Welcome to the Château des Sètes, a jewel of the Côte d'Azur, where long summer days bring ease, glamour, and decadence to the holidaymakers who can afford it.
Ruby Ashby adores her parents' house in France, but this August, everything feels different. Unexpected guests have descended upon the château—friends of her parents, and their daughters—and they are keen to enjoy the hot, extravagant summer holiday to its fullest potential. But despite languid days spent poolside and long nights spent drinking, a simmering tension grows between the adults, and the sanctuary that Ruby once cherished soon starts to feel like a gilded cage.
Over two decades later, the Château des Sètes is for sale, its days of splendor and luxury long gone, leaving behind a terrible history and an ugly legacy. A young widow has returned to France, wanting to purchase the estate despite her memories of what transpired that fateful summer. But there is another person who is equally haunted by the château, and who also seeks to reclaim it. Who will set the house and its ghosts free—and who will become yet another of its victims?
With riveting psychological complexity, The Ruins captures the tangled legacy of abuse, the glittering allure of the Mediterranean, and the dark shadows that wait beneath the surface of both.
Praise for The Ruins: A Novel
"Beautifully written and haunting." ––Cosmopolitan UK
"I was completely transported by The Ruins. Wynne has evocatively rendered a beautiful, doomed French chateau while creating immersive, almost dream-like atmospherics. I loved this novel."
--Sarah Pearse, New York Times bestselling author of The Sanatorium
"Tense and atmospheric, The Ruins investigates trauma and memory with a knowing, meticulous hand…This is a book that understands the inherent dangers of girlhood, and one that believes wholeheartedly in the innate resilience, bravery, and compassion of teenage girls themselves."
––Emily Layden, author of All Girls
"The French Riviera has never been more captivating or unsettling. A story rich with family tensions and a chateau that serves as a gilded cage, The Ruins is both beautifully written and haunting at its core…stunning."
––Shea Ernshaw, the New York Times bestselling author of A History of Wild Places
"Harrowing and compelling, this is a story burning with rage and the heat of the male gaze."
––Vikki Pattis, bestselling author of In the Dark