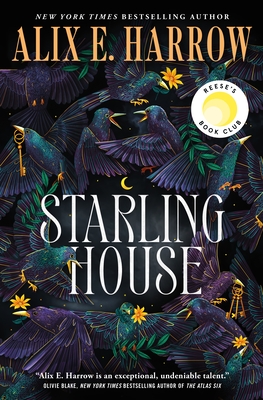 Starling House
Publication Date:
October 3rd, 2023
BOOK ENDS Winchester
1 on hand, as of Dec 9 9:14am
(SCF/FANTASY)
On Our Shelves Now
Starling Househas all the excellent, wry writing ofA Spindle SplinteredandA Mirror Mended. Still, it's not a fairy tale retelling —just a deeply unsettling story with a house that might conceal the very gates of hell. Leave the lights on!
October 2023 Indie Next List
Description
"This book has everything you could possibly want this fall...a cursed town, a haunted house, a vivid & eerie setting—plus, characters willing to risk everything." —Reese Witherspoon (Reese's Book Club October '23 Pick)

Starling House is a gorgeous, modern gothic fantasy from the New York Times bestselling author of The Ten Thousand Doors of January.

I dream sometimes about a house I've never seen….
Opal is a lot of things—orphan, high school dropout, full-time cynic and part-time cashier—but above all, she's determined to find a better life for her younger brother Jasper. One that gets them out of Eden, Kentucky, a town remarkable for only two things: bad luck and E. Starling, the reclusive nineteenth century author of The Underland, who disappeared over a hundred years ago.
All she left behind were dark rumors—and her home. Everyone agrees that it's best to ignore the uncanny mansion and its misanthropic heir, Arthur. Almost everyone, anyway.
I should be scared, but in the dream I don't hesitate.
Opal has been obsessed with The Underland since she was a child. When she gets the chance to step inside Starling House—and make some extra cash for her brother's escape fund—she can't resist.
But sinister forces are digging deeper into the buried secrets of Starling House, and Arthur's own nightmares have become far too real. As Eden itself seems to be drowning in its own ghosts, Opal realizes that she might finally have found a reason to stick around.
In my dream, I'm home.
And now she'll have to fight.

Welcome to Starling House: enter, if you dare.
A Book of the Month Club Pick
An October 2023 Indie Next Pick
A LibraryReads October 2023 Hall of Fame Pick
Apple, Best Books of October
EW.com, Fall Book Must Reads 2023
Washington Post, Noteworthy Books for October
Paste Magazine, The Must-Read Fantasy Books of Fall 2023
PopSugar Best New Fantasy Books of 2023
BookPage, Most Anticipated Books of Fall 2023
Observer, Must-Read Books of Fall 2023
Polygon, 12 Best New SFF for the Fall
LitHub, October's Best Sci-Fi and Fantasy Books
Bookish, October's Most-Anticipated Books
Gizmodo, October's Huge List of New Sci-Fi, Fantasy, and Horror Books
Praise for Starling House
"This book has everything you could possibly want this fall...a cursed town, a haunted house, a vivid & eerie setting—plus, characters willing to risk everything." —Reese Witherspoon (Reese's Book Club October '23 Pick)
"Alix E. Harrow is an exceptional, undeniable talent, and Starling House, with its gentle reassurances of the homes we make and the love we deserve, is more than satisfying. It's pure loveliness in book form." —Olivie Blake, New York Times bestselling author of The Atlas Six
"Gorgeous, poignant, and honest—an unforgettable read." —Andrea Stewart, author of The Bone Shard Daughter
"As knife-edged and sharp as its protagonist...A smart, spectacular contemporary Gothic that will leave its roots in you and linger in your dreams." —Kat Howard, Alex Award-winning author of An Unkindness of Magicians
"Harrow's lyrical prose propels this contemporary Southern gothic, offering an atmospheric fairy tale with delightfully jagged-edged characters." –EW.com
"From Ten Thousand Doors of January to A Mirror Mended, Alix E. Harrow is a fantasy author who just does not miss. This magical, heartfelt haunted house tale is no different." —Paste Magazine
"As sumptuous and romantic as it is sinister, Alix E. Harrow's foray into Southern gothic literature is a perfect book to ring in the start of spooky season." –Polygon
"Harrow's The Ten Thousand Doors of January is one of those books where people who've read it fall all over themselves to push into other readers' hands (I am one such person) and her growing legion of devoted readers will be happy to know that Starling House is a full-bore masterpiece." –LitHub
"Starling House will no doubt take its place alongside fiction's most memorable haunted houses."—Publishers Weekly, starred review
"Harrow's mash-up of twisted fairy tales and Southern gothic fiction is a haunting story of longing, lies, and generational curses." —Library Journal, starred review
Praise for Alix E. Harrow
"Devastatingly good, a sharp, delicate nested tale of worlds within worlds, stories within stories, and the realm-cracking power of words." —Melissa Albert, New York Times bestselling author, on The Ten Thousand Doors of January
"One of the most unique works of fiction I've ever read." —Tamora Pierce, New York Times bestselling author, on The Ten Thousand Doors of January
"I couldn't put it down." —Peng Shepherd, author of The Book of M, on The Ten Thousand Doors of January
"One for the favorites shelf... Here is a book to make you happy when you gently close it. Here you will find wonder and questions and an unceasingly gorgeous love of words which compasses even the shape a letter makes against a page." —NPR on The Ten Thousand Doors of January
"A love letter to imagination, adventure, the written word, and the power of many kinds of love." —Kirkus Reviews on The Ten Thousand Doors of January
"A breathtaking book-brilliant and raw and dark and complicated. It's also, to be blunt, uncannily relevant." —Sarah Gailey, author of Magic for Liars, on The Once and Future Witches
"This book is an amazing bit of spellcraft and resistance so needed in our times, and a reminder that secret words and ways can never be truly and properly lost, as long as there are tongues to speak them and ears to listen." —P. Djèlí Clark, author of The Black God's Drums, on The Once and Future Witches
"This is a delightful, satisfying novel, a tale of women's battle for equality, of fairy tales twisted into wonderfully witchy spells, of magics both large and small, and history re-imagined. All of it is told in Alix Harrow's exquisite language and with her vivid characterizations-a great pleasure to read." —Louisa Morgan, author of A Secret History of Witches, on The Once and Future Witches
"A brilliant dazzle of a book. This story of sisters and witches, memory and power cracked open my heart and set down roots there. I devoured it in enormous gulps, and utterly loved it." —Kat Howard, author of An Unkindness of Magicians, on The Once and Future Witches

"A love letter to folklore and the rebellious women of history." —Publishers Weekly, on The Once and Future Witches