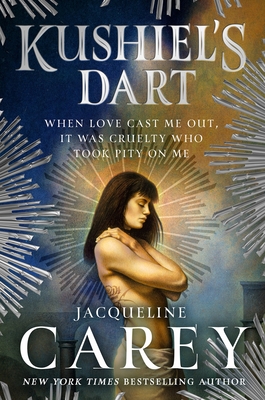 Kushiel's Dart (Kushiel's Legacy #1)
Publication Date:
June 6th, 2023
BOOK ENDS Winchester
1 on hand, as of Dec 9 9:14am
(SCF/FANTASY)
On Our Shelves Now
Description
The lush epic fantasy that inspired a generation with a single precept: Love As Thou Wilt
The first book in the Kushiel's Legacy series is a novel of grandeur, luxuriance, sacrifice, betrayal, and deeply laid conspiracies. A world of cunning poets, deadly courtiers, deposed rulers and a besieged Queen, a warrior-priest, the Prince of Travelers, barbarian warlords, heroic traitors, and a truly Machiavellian villainess...all seen through the unflinching eyes of an unforgettable heroine.
A nation born of angels, vast and intricate and surrounded by danger... a woman born to servitude, unknowingly given access to the secrets of the realm...
Born with a scarlet mote in her left eye, Phédre nó Delaunay is sold into indentured servitude as a child. When her bond is purchased by an enigmatic nobleman, she is trained in history, theology, politics, foreign languages, the arts of pleasure. And above all, the ability to observe, remember, and analyze. Exquisite courtesan, talented spy...and unlikely heroine. But when Phédre stumbles upon a plot that threatens her homeland, Terre d'Ange, she has no choice.
Betrayed into captivity in the barbarous northland of Skaldia and accompanied only by a disdainful young warrior-priest, Phédre makes a harrowing escape and an even more harrowing journey to return to her people and deliver a warning of the impending invasion. And that proves only the first step in a quest that will take her to the edge of despair and beyond.
Phédre nó Delaunay is the woman who holds the keys to her realm's deadly secrets, and whose courage will decide the very future of her world.
Praise for Kushiel's Dart (Kushiel's Legacy #1)
"A very sophisticated fantasy, intricately plotted and a fascinating read." —Robert Jordan
"The novel is beautiful and carnal in a way that few American productions allow themselves to be, and it would be fascinating to bring something so intelligent, ethereal, and unapologetically sexual to the screen." —TIME
"A beautifully written story and a gem of a fantasy novel." —The Associated Press
"This brilliant and daring debut catapults Carey immediately into the top rank of fantasy novelists." —Publishers Weekly, starred review
"Making a marvelous debut, Carey spins a breathtaking epic starring an unflinching yet poignantly vulnerable heroine." —Booklist, starred review
"With her provocative debut novel, Jacqueline Carey introduces herself as an extraordinarily talented writer…Ms. Carey weaves an exquisite tapestry of politics, intrigue, history, magic, desire and fate into a breathtaking epic that will captivate readers." —Romantic Times, Top Pick/Gold Medal
"Jacqueline Carey astonishes with her first novel…sexy and sometimes shocking, if you don't mind your eyeballs popping out every couple of chapters, this is a swell tale." —The Detroit Free Press
"Compulsively readable…a saga worthy of the field's best writer on such a scale, George R. R. Martin. It's an astonishing debut." —Locus
"The highly distinctive voice of the protagonist, Phedre, captured me within the first few pages of the novel and held me spellbound.... This is a stunning debut novel." —Juliet Marillier
Praise for the Kushiel's Legacy trilogy
"Rich, intricate worldbuilding meets swoonworthy romance. A tangled web of politics and desire … A modern classic. Phédre and Joscelin's story is the beating heart of every romantasy to follow." —Olivie Blake, New York Times bestselling author