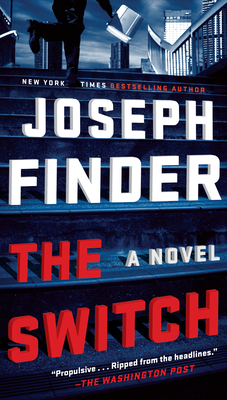 The Switch: A Novel
Publication Date:
May 29th, 2018
BOOK ENDS Winchester
4 on hand, as of Dec 9 9:14am
(MYSTERY)
On Our Shelves Now
Description
A simple mix up throws an innocent man into the cross-hairs of sinister government secrets and ruthless political ambitions in this timely, electrifying thriller from New York Times bestselling author Joseph Finder.
Michael Tanner is on his way home from a business trip when he accidentally picks up the wrong MacBook in an airport security line. He doesn't notice the mix-up until he arrives home in Boston, but by then it's too late. Tanner's curiosity gets the better of him when he discovers that the owner is a US senator and that the laptop contains top secret files.    
 
When Senator Susan Robbins realizes she's come back with the wrong laptop, she calls her young chief of staff, Will Abbott, in a panic. Both know that the senator broke the law by uploading classified documents onto her personal computer. If those documents wind up in the wrong hands, it could be Snowden 2.0—and her career in politics will be over. She needs to recover the MacBook before it's too late.
 
When Will fails to gain Tanner's cooperation, he is forced to take measures to retrieve the laptop before a bigger security breach is revealed. He turns to an unscrupulous "fixer" for help. In the meantime, the security agency whose files the senator has appropriated has its own methods, darker still—and suddenly Tanner finds himself a hunted man, on the run, terrified for the safety of his family, in desperate need of a plan, and able to trust no one.
Praise for The Switch: A Novel
Praise for The Switch
"Great characterization, heart-stopping chase scenes, a plot that never flags—and even a few fascinating facts about coffee sourcing. Finder may well be the best contemporary thriller writer going."—Booklist (starred review)
"Seemingly ripped from recent headlines, Finder's latest...whizzes by so quickly and suspensefully...A master of what might be called the 'man in over his head' thriller, Finder delivers a tense, uncannily relevant tale about government secrets falling into the wrong hands."—Kirkus Reviews
"[Finder] once again shows his knack for crafting an engaging thriller."—Publishers Weekly

"Finder has written another compelling thriller that demonstrates his strengths of mixing corporate themes with mayhem...the perfect summer read."—Library Journal
"[R]ipped from the headlines."—The Washington Post
"If Alfred Hitchcock were alive and working today, this is the kind of story he would direct."—Fort Worth Star-Telegram

"Perfect for fans of The Fugitive."—The Boston Globe
"The Switch is a dazzling political thriller, a kind of 'Advise and Consent' postmodernized for the 24/7 news cycle world. Perfectly timed and wondrously prescient, this is summer reading of the highest order."—The Providence Journal
"[A] much-needed shot of adrenaline sure to shake up the waning late summer days."—The Oklahoman
"[A] master of the corporate thriller. [Finder's] novels infuse fast-moving plots with well-researched business minutiae and impressively current tech details."—WBUR Boston