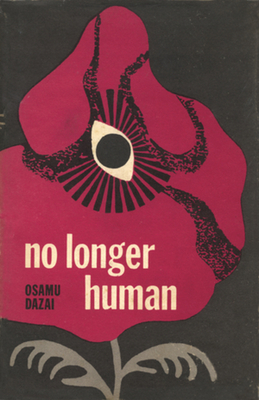 No Longer Human
Publication Date:
November 15th, 2022
Publisher:
New Directions
BOOK ENDS Winchester
1 on hand, as of Dec 9 9:14am
(FICTION)
On Our Shelves Now
Description
Now in a gift cloth edition, No Longer Human ponders profound alienation
Mine has been a life of much shame. I can't even guess myself what it must be to live the life of a human being.
Portraying himself as a failure, the protagonist of Osamu Dazai's No Longer Human narrates a seemingly normal life even while he feels himself incapable of understanding human beings. His attempts to reconcile himself to the world around him begin in early childhood, continue through high school, where he becomes a "clown" to mask his alienation, and eventually lead to a failed suicide attempt as an adult. Without sentimentality, he records the casual cruelties of life and its fleeting moments of human connection and tenderness. Still one of the ten bestselling books in Japan, No Longer Human is an important and unforgettable modern classic: "The struggle of the individual to fit into a normalizing society remains just as relevant today as it was at the time of writing." (The Japan Times)
About the Author
OSAMU DAZAI was born in 1909 into a powerful landowning family of northern Japan. A brilliant student, he entered the French department of Tokyo University in 1930, but later boasted that in the five years before he left without a degree, he had never attended a lecture. Dazai was famous for confronting head-on the social and moral crises of postwar Japan before he committed suicide by throwing himself into Tokyo's Tamagawa Aqueduct. His body was found on what would have been his 39th birthday.
Donald Keene, the author of dozens of books in both English and
Japanese as well as the famed translator of Dazai, Kawabata, and Mishima, was the
first non-Japanese to receive the Yomiuri Prize for Literature.
Praise for No Longer Human
What I despise about Dazai is that he exposes precisely those things in myself that I most want to hide.
— Yukio Mishima
From the point of view of wholesome common sense, Dazai's writings may be regarded as the soliloquies of a deviant.
— Yasunari Kawabata
No Longer Human is his masterpiece, though all his work is worthy. Dazai was an aristocratic tramp, a self described delinquent, yet he wrote with the forbearance of a fasting scribe.
— Patit Smith
Dazai's brand of egoistic pessimism dovetails organically with the emo chic of this cultural moment.
— Andrew Martin - The New York Times