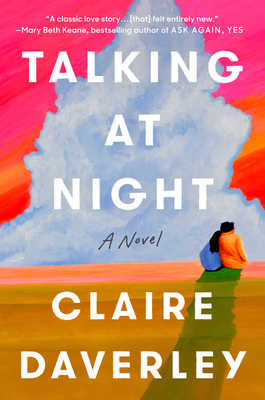 Talking at Night: A Novel
Publication Date:
June 20th, 2023
Publisher:
Pamela Dorman Books
BOOK ENDS Winchester
1 on hand, as of Dec 9 9:14am
(FICTION)
On Our Shelves Now
Description
"A beautifully observed, tender love story with characters you really care about…a bit like Normal People. I devoured it."―Jojo Moyes, New York Times bestselling author of Someone Else's Shoes
"I absolutely adored Talking at Night… A gorgeous story of first love, loss, and the people who stick to your ribs, it should be on everyone's must-read list. Beautiful, poignant, and heart-wrenching in the best way possible." ―Carley Fortune, New York Times bestselling author of Every Summer After
A poignant and emotional will they/won't they story that cleverly captures both the thrill and trepidation of first love
This is the story of Will and Rosie. The two are opposites in every way and yet they fall for each other as teenagers; nineties music, sideways glances, sunsets and bonfires and talking late into the night. It's palpable, inevitable: they're on the precipice of starting something wonderful. Until one day, tragedy strikes, and any possibility of being together seems to shatter.
But time and again, Rosie and Will find their way back to each other. Though the years pass, they cannot quite let go of what might have been.
Talking at Night tells a story of sudden connections, missed opportunities, the many loves we have over a lifetime--and the one that keeps us coming back, again and again, for more.
Praise for Talking at Night: A Novel
Praise for Talking at Night:
"A beautifully observed, tender love story with characters you really care about…a bit like Normal People. I devoured it."
―Jojo Moyes, New York Times bestselling author of Someone Else's Shoes
"I absolutely adored Talking at Night, the breathtaking debut from Claire Daverley. A gorgeous story of first love, loss, and the people who stick to your ribs, it should be on everyone's must-read list. Beautiful, poignant, and heart-wrenching in the best way possible."
―Carley Fortune, New York Times bestselling author of Every Summer After

"Compelling and propulsive, Talking at Night is an achingly beautiful novel about the people in our lives who change us irrevocably and who we will always carry with us, no matter what. Claire Daverley writes with elegance and grace as she mines the depths of human emotions. This novel will consume you."
―Jill Santopolo, New York Times bestselling author of The Light We Lost
"Talking at Night is a love story, certainly, but it's much more than that. I was rapt. I highly recommend this wonderful novel."
―Ann Napolitano, New York Times bestselling author of Dear Edward and Hello Beautiful
"The story of Will and Rosie is a classic love story in every sense, and yet, in Claire Daverley's hands, it felt entirely new. The characters are completely alive from the very first page, and how I rooted for them! Talking at Night could be titled 'Reading at Night,' because I was awake through the night, turning these pages."
―Mary Beth Keane, New York Times bestselling author of Ask Again, Yes
"Talking at Night is a transcendent marvel. Spanning decades and introducing readers to lush, complex characters whose witty dialogue reminded me of Sally Rooney's work, Daverley's debut is aching and tender, searing and sweet, a story about the power of love to make even the most broken of us whole."
–Amanda Eyre Ward, New York Times bestselling author of The Jetsetters
"Beautifully written and keenly felt. It's romantic but not a romance, for this novel is authentic to its bones. Beguiling, but also painfully honest, and that's a rare and winning combination indeed."
―Laurie Frankel, New York Times bestselling author of One Two Three
"Spellbinding, beautiful, lyrical and tender, Talking at Night is a dazzling debut. I loved every word and was left longing for more."
—Rosie Walsh, New York Times bestselling author of The Love of My Life
"Quietly devastating, entirely beautiful, bruising and hopeful. In a world of compromise, Claire Daverley has created a perfect thing. Talking at Night takes its place amongst my all time favourites. I implore you to read it. I'll never forget it."
—Chris Whitaker, New York Times bestselling author of We Begin At The End
"Have your tissues handy for Talking at Night. . . a raw, extraordinary novel in which every scene aches with emotion."
—Real Simple
"Daverley's descriptive powers make even the ordinary seem significant. . . As much as Talking at Night is a love story between two people, it is also a meditation on family and the vagaries of grief when bonds are broken. . . Readers will keep turning pages."
—BookPage

"With shades of Sally Rooney, this is a lyrical, tender love story about two people, Will and Rosie, who meet as teenagers and seemed destined to be together until tragedy strikes."
—Good Housekeeping (UK)

"Daverley's moving debut outlines a lyrical story of unspoken words and one unending love. . . While Rosie and Will's love story is fraught with heartbreak and change, and although the journey is almost always tumultuous, their evolving friendship and unbreakable connection prove entirely worthwhile and real. A poignant romance perfect for fans of Josie Silver and Bethan Roberts."
—Kirkus
"Talking at Night is a masterful and authentic depiction of true love in all its messy, complicated and gut-wrenching glory. Will and Rosie are the perfect, imperfect star-crossed lovers – their story had me enthralled from the start."
—Ruth Hogan, international bestselling author of The Keeper of Lost Things
"Deeply romantic . . . Reminded me of just how all-consuming and transformative first love can be. The more I read, the more I was completely immersed in the story of Rosie and Will and how life, and tragedy, conspire to keep them apart." 
―Laura Barnett, author of This Beating Heart
"Clever, beautiful and romantic. An absolute gem." 
―Rachel Marks, author of Hello, Stranger