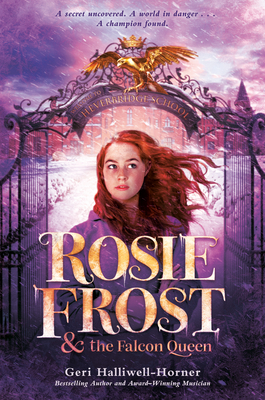 Rosie Frost and the Falcon Queen (Rosie Frost ® #1)
Publication Date:
October 3rd, 2023
Publisher:
Philomel Books
Usually Ships in 1 to 5 Days
Description
A sweeping adventure filled with a hidden island, family secrets, shocking betrayals, amazing music, and girl power, by iconic Spice Girl, songwriter and author Geri Halliwell-Horner.
It's time to find your power.
Suddenly orphaned and alone, Rosie Frost is sent to the mysterious Bloodstone Island—home not only to a school for extraordinary teens, but also a sanctuary for endangered species. There, Rosie confronts a menacing deputy headmaster, a group of mean kids intent on destroying her, and shocking family secrets. She also discovers that history can come to life in ways she never could have imagined. 
When the island itself comes under threat, Rosie knows she must enter and win the Falcon Queen games in a desperate bid to save it. 
But Rosie can't do it alone. She finds that believing in herself—and her friends—is the first step to finding the power she never knew she had.
*All books contain a QR code with access to original songs by Geri Halliwell-Horner!
About the Author
Geri Halliwell-Horner is an accomplished singer, writer, producer, and actress who is widely recognized for her iconic place in British pop culture as an original member of the record-breaking girl group the Spice Girls. As Ginger Spice, Geri played a formative role in the band as they became one of the biggest-selling girl groups of all time. She is the successful author of the Ugenia Lavender book series in the UK and continues to work with the Royal Commonwealth to promote prospects through literacy to Commonwealth citizens. She was awarded an honorary doctorate of letters at Sheffield Hallam University and is an outspoken supporter of animals and an ambassador of the London Zoo. You can visit Geri Halliwell-Horner online at RosieFrostBooks.com or follow her on Instagram @TheRealGeriHalliwell and on Twitter @GeriHalliwell and on Facebook at Facebook.com/GeriHalliwell.
Praise for Rosie Frost and the Falcon Queen (Rosie Frost ® #1)
"This book mixes elements of fantasy with history, mystery, and adventure, but it is, at its core, a coming-of-age story. Rosie blossoms when she starts to let her walls down, and the supporting characters who eventually become her friends round out the story. The school and the island are fantastic settings: readers will be bursting to visit Bloodstone Island, with its rare creatures and old secrets. If an English boarding school on an island full of wild, rare animals isn't enough to grab readers, Rosie Frost, an empowering new heroine, certainly will." —School Library Journal

"This contemporary, girl-power story has light paranormal and fantastical elements and is fueled by a captivating mystery and adventure. It also features quick pacing, fun and engaging worldbuilding, and a lead character who is easy to root for. Exuberant, action-packed, and warmhearted." —Kirkus Reviews
"[A]n effervescent fantasy series . . . smart twists rooted in real-life history add excitement, and Anne Boleyn's indomitable spirit literally and figuratively haunts this lively debut, inspiring Rosie and propelling the tale's feminist, eco-preservationist message." —Publishers Weekly