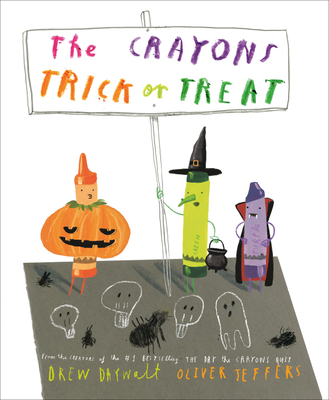 The Crayons Trick or Treat
Publication Date:
September 6th, 2022
Publisher:
Philomel Books
Usually Ships in 1 to 5 Days
Description
The hilarious crayons from the #1 New York Times bestselling The Day The Crayons Quit are ready to celebrate Halloween!
The Crayons want to go trick-or-treating, but they're not sure what to say! In this humorous, small hardcover Halloween story, Purple Crayon teaches the rest of the crayon box the magic words to say when they ring their neighbors' doorbells. (Hint: It's NOT "Boo!")
About the Author
Drew Daywalt grew up in a haunted house, but now lives in a Southern California home haunted only by his wife, two kids, and a German shepherd. A Hollywood screenwriter when he is not writing for young readers, Drew's favorite crayon is Black. He is the #1 bestselling author of The Day the Crayons Quit and The Day the Crayons Came Home, in addition to many other titles. Follow Drew at @DrewDaywalt.
Oliver Jeffers is a creator of art for adults and children. An illustrator of fine art, his picture books have received numerous awards and much critical acclaim. The Day the Crayons Quit and The Day the Crayons Came Home were both #1 New York Times bestsellers. Oliver has become one of the world's most in-demand artists, creating pieces and graphics for TED Talks, the New York Times, Publishers Weekly, and for U2's lyric video to the song "Ordinary Love." You can find Oliver at oliverjeffers.com
Praise for The Crayons Trick or Treat
"Fans of the colorful cast will enjoy this silly confection." –Horn Book
"Pleasing snack-size fun!" –Publisher's Weekly
"A laugh-inducing Halloween read-along." –Kirkus
"A must-have for any library." –School Library Journal