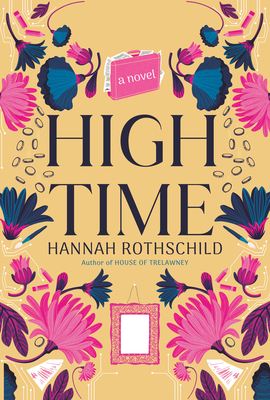 High Time: A novel
Publication Date:
July 11th, 2023
BOOK ENDS Winchester
1 on hand, as of Oct 3 5:21pm
(FICTION)
On Our Shelves Now
Description
A PEOPLE BEST NEW BOOK • An outlandish comedy of morals and manners about a highborn British family of outrageous characters, by the acclaimed author of The Improbability of Love and House of Trelawney •  "A joy to read."—Vogue
"High Time delves once again into the aristocratic antics of the Trelawney family… Another thrilling portrait of the perils of great privilege." —Town & Country
Eight years have passed and in 2016 many things have changed for the eccentric Trelawney family.
In the months leading up to the Brexit referendum, Ayesha, the beautiful, young secret daughter of the late Enyon Trelawney, has married the much older thuggish banker Tomlinson Sleet with whom she has a young daughter, Stella. Ayesha is busy restoring the once broken-down Trelawney Castle in Cornwall, which Sleet has bought, to its former glory, as well as studying art at the Courtauld in London. The elderly Countess Clarissa—still ensconced on the property—the host of a camp television show, is about to head into a disastrous marriage. Lady Jane has separated from the hopeless Trelawney heir Kitto, who is crazier than ever, and found an enlightened woman to keep her company abroad. Sleet is becoming increasingly difficult, distracted by the seductive and ruthless bitcoin goddess Zamora, but Kitto's sister Blaze and her husband, Joshua, will support Ayesha's clever plan as she discovers shocking secrets, takes action, and brings the family together.
Biting and satirical, but also poignant and moving, High Time is a delicious story of madness, mayhem, and mischief run amok.
Praise for High Time: A novel
"Fans of House of Trelawney (and there are quite a few, including us) will devour this sequel. . . . There are enough plot twists to outdo a New York pretzel. And High Time is more delicious."
—Air Mail
"Hannah Rothschild contains multitudes. . . . [Her] gimlet-eyed observations. . . . gift for portraiture and willingness to turn anything (and anyone) into a joke make her a joy to read."
—Vogue
"[A] highly entertaining read."
—People
"When Hannah Rothschild has a new novel out, we pay attention. Her latest, High Time, delves once again into the aristocratic antics of the Trelawney family. . . . With a sharp eye for detail and a wicked sense of humor, Rothschild paints another thrilling portrait of the perils of great privilege."
—Town & Country

"An enjoyably complicated narrative. . . . that will keep readers turning pages to find out what happens next."
—Kirkus Reviews
"[A] convulsively comic sequel to Rothschild's House of Trelawney. . . . With scenes that are over-the-top hilarious and a sharply satiric view of late-stage capitalism, [High Time] plays like a savvy cross between Brideshead Revisited and Succession as written by the Monty Python troupe."
—Publishers Weekly, starred review

"Bitcoin billionaires, Albanian mobsters and an octogenarian reality TV star feature in this exuberant romp set in the lead-up to Brexit, which revels in satirising English attitudes to class, cash and family scandal."
—Mail on Sunday (UK)
"Blissful, escapist fiction. . . . Prepare to be entertained."
—Sainsbury's Magazine (UK)
 
"At heart, High Time is a giddily excitable caper about aristocratic real estate masqueradin as something Nancy Mitford and Jilly Cooper might have cooked up."
—The Times (UK)
 
"[Rothschild's] brilliant new novel, High Time, is pure escapist satire. Once again set in the world of high art as well as high finance—both of which she lampoons with comic aplomb—the book reads like a thrilling fairground ride version of Downtown Abbey."
—The Independent (UK)
"High Time does not shy away from serious issues, especially the repercussions of business, but it is also a fun, fast-paced and, God forbid, funny novel. . . . With its sharp wit and multi-generational cast of charming but quirky relatives, Hannah's novels stray far closer to the likes of Nancy Mitford in its tone and style."
—City A.M. (UK)
 
"A must-read for 2023."
—Tatler Magazine (UK)
"A light and escapist tale with all the right ingredients."
—Muddy Stilettos (UK)
"Hannah Rothschild's new novel High Time is the perfect summer read: mischievous and delicious. I devoured it in one go."
—Miranda Cowley Heller, author of The Paper Palace