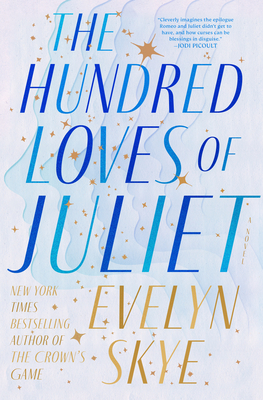 The Hundred Loves of Juliet: A Novel
Publication Date:
August 1st, 2023
BOOK ENDS Winchester
1 on hand, as of Dec 9 9:14am
(SCF/FANTASY)
On Our Shelves Now
Description
A writer who craves a real-life happily ever after and a gruff fisherman who doesn't believe in them find out they're part of the greatest love story of all time.
"Cleverly imagines the epilogue Romeo and Juliet didn't get to have, and how curses can be blessings in disguise."—JODI PICOULT

A POPSUGAR BEST BOOK OF THE YEAR
After a bad breakup, Helene Janssen runs away to Alaska to find some peace and quiet. She's been dreaming up bits and pieces of a novel for years and hopes to finally have time to write it.
 
On her first night there, Helene meets Sebastien Montague, a gruff fisherman who looks exactly like the hero in the book she's working on. But how is that even possible? 
 
Sebastien seems to recognize Helene, too, but he lies about it and brushes her off, even though their chemistry is like a live wire—immediate and undeniable.
 
It turns out that she's Juliet, reincarnated, and he's Romeo, lost in time. And if Helene can convince Sebastien to give her a chance, maybe this time they can rewrite the ending of their story and find a true happily ever after.
Praise for The Hundred Loves of Juliet: A Novel
"The Hundred Loves of Juliet is romantic, realistic, and fanciful—a love-for-all-times story. I couldn't put this book down. I really wanted Helene and Sebastien to have a happy ending, and I'll just say I was very surprised!"—Nancy Thayer, New York Times bestselling author of All the Days of Summer

"Fresh, magical, and hopelessly romantic, Evelyn Skye's The Hundred Loves of Juliet is a book for lovers. I was swept away. It's an atmospheric, tug-at-your-heartstrings winner, showing us that true love never dies."—Sarah Addison Allen, New York Times bestselling author of Other Birds
"A rare and charming retelling that asks the question: What if Romeo and Juliet had another chance? What if they had a hundred? The Hundred Loves of Juliet is a celebration of life as it comes and love as we find it."—Ashley Poston, New York Times bestselling author of The Dead Romantics
"Beautifully spun and achingly romantic, this gorgeous reimagining is every bit as hopeful as it is haunting. I have never loved Romeo and Juliet more."—M. A. Kuzniar, Sunday Times bestselling author of Midnight in Everwood
"Evelyn Skye expertly crafts the story of Romeo and Juliet into a moving romance that explores what it means to love boldly in the face of tragedy and loss. Hopeful and triumphant, The Hundred Loves of Juliet is like a bright, warm sunbeam in the form of a book you'll want to revisit again and again."—Alyssa Wees, author of Nocturne