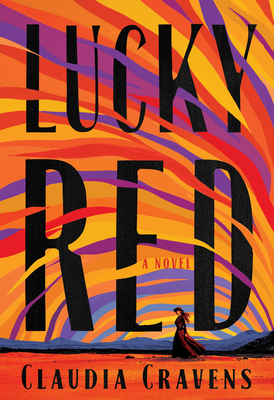 Lucky Red: A Novel
Publication Date:
June 20th, 2023
Publisher:
The Dial Press
BOOK ENDS Winchester
2 on hand, as of Dec 9 9:14am
(FICTION)
On Our Shelves Now
Set in a late 1800s Dodge City, a young woman is caught up in other people's expectations.Lucky Redis about carving your own way in a world that wants to keep you under its thumb. A thrilling western full of grit, passion, and whiskey!
July 2023 Indie Next List
Description
NATIONAL BESTSELLER • A cinematic debut set in the American West about a scrappy orphan bent on making her own luck—and finding friendship, romance, and her true calling along the way

"A powerful feminist battle cry . . . [and] rollicking good fun."—Minneapolis Star Tribune
 
A BEST BOOK OF THE YEAR: Chicago Public Library, Kirkus Reviews, Library Journal

The heart wants what it wants. Saddle up, ride out, and claim it.
 
It's the spring of 1877 and sixteen-year-old Bridget is already disillusioned when she arrives penniless in Dodge City with only her wits to keep her alive. Thanks to the allure of her bright red hair and country-girl beauty, she's recruited to work at the Buffalo Queen, the only brothel in town run by women. Bridget takes to brothel life, appreciating the good food, good pay, and good friendships she forms with her fellow "sporting women."
 
But as winter approaches, Bridget learns just how fleeting stability can be. With the arrival of out-of-towners—some ominous and downright menacing, others more alluring but potentially dangerous in their own ways, including a legendary female gunfighter who steals Bridget's heart—tensions in Dodge City run high. When the Buffalo Queen's peace and stability are threatened, Bridget must decide what she owes to the people she loves and what it looks like to claim her own destiny.
 
A thoroughly modern reimagining of the Western genre, Lucky Red is a masterfully crafted, propulsive tale of adventure, loyalty, desire, and love.
Praise for Lucky Red: A Novel
"A Western like you've never seen before: a story of reinvention, sex work, found family, and queer self-discovery."—Harper's Bazaar, "Best Queer Reads of 2023"
"Lucky Red is the Western I never knew I needed—where all the most fascinating misfit characters usually pushed to the fringes take their rightful places center stage. Claudia Cravens strikes the perfect balance here—queer, feminist, subversive, and a good old-fashioned freight train of an adventure story."—Sara Nović, author of True Biz
"I dare anyone not to thrill to this book! Lucky Red takes the Western genre and shakes the life back into it. Explosive and intimate, dense with human connection, and above all seized with the need for freedom of the queer self: This is storytelling that grinds its characters in its grip, then throws them into the air to take wondrous flight. I loved it to bits."—Shelley Parker-Chan, author of She Who Became the Sun
"A subversive take on Western fiction: a deftly told, absorbing coming-of-age story about a young woman's life in a Dodge City brothel, and one of the most heartfelt and thrilling books I've read in ages."—Lauren Wilkinson, author of American Spy
"A thrilling and surprising story of deep human hunger and desire, the ache that lives in all of us, and the sometimes violent lengths that we will go to feel seen and loved and understood."—Lynn Steger Strong, author of Flight
"A renegade Western alternating between lonely darkness, feverish desire, and thrilling action, Lucky Red made for such cinematic reading that I forgot it was a book!"—Frances Cha, author of If I Had Your Face

"Cravens debuts with an exceptional historical tale of sex work and queer desire on the American frontier. . . . Cravens peppers the thrilling plot with delicious language (Bridget's clients are 'a series of hats and mustaches'; Jim's marriage offer feels 'wedged in [her] chest, like a piece of furniture that can't be got through a doorway'), and her sensitive portrayal of Bridget's uncertainty over her sexuality resonates. This is a knockout."—Publishers Weekly (starred review)

"Let's reexamine the lives of women in the Wild West, shall we? . . . The world of the Buffalo Queen and its employees is vividly drawn, and there's a cinematic quality all the way through. . . . Cravens shakes the dust off tired tropes and delivers a shining example of what an old-fashioned page-turner can accomplish."—Kirkus Reviews (starred review)
"Cravens smacks the reader in the face with a genderqueer coming-of-age story that culminates in three sex workers tracking down a posse for romantic and financial revenge."—Booklist (starred review)