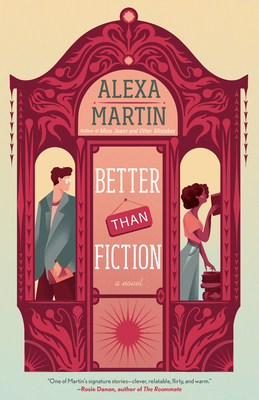 Better than Fiction
Publication Date:
November 8th, 2022
BOOK ENDS Winchester
2 on hand, as of Dec 9 9:14am
(FICTION - ROMANCE)
On Our Shelves Now
Description
"If you think life is better than fiction, then you haven't read Alexa Martin's fiction."—NPR
One of...
Amazon's Best Romances of November
Buzzfeed's New Romances to Read This Fall
Cosmopolitan's Best Books Coming Out In November
Bustle's Most Anticipated Books of November
Women's Health's Swooniest Romance Novels of 2022
Love isn't always by the book in this charming romantic comedy about a bookseller discovering how to be the main character in her story.
As a self-proclaimed book hater and a firm believer that the movie is always better, Drew Young didn't anticipate inheriting her grandma's bookstore, the Book Nook. She's in way over her head even before the shop's resident book club, comprising seven of the naughtiest old ladies ever, begin to do what they do best—meddle.
Bestselling author Jasper Williams is a hopeless romantic. When he meets Drew at his Book Nook signing event, he becomes determined to show her the beauty of reading. He curates a book bucket list in exchange for her help exploring the local Denver scene for his current manuscript. From going river rafting to trying local restaurants, Drew begins to connect with Jasper in a way she only thought happened in fiction.
 
When messy family ties jeopardize the future of the Book Nook, Drew is caught between a bookshelf and a hard place. She's reminded that real life isn't always big dreams and sweeping romance. But Jasper is the plot twist she never saw coming and he's writing a happily ever after just for them.
Praise for Better than Fiction
"Alexa Martin's romances never fail to deliver perfectly paced swoons, charming humor and profound questions. Better than Fiction delights with bookish rom-com joy on every page, with a wonderfully relatable heroine whose connection to the man she's learning to love underlies her moving journey back to herself. This is a romance for the reader and the dreamer in everyone."—Emily Wibberley and Austin Siegemund-Broka, authors of The Roughest Draft
"Alexa Martin is a powerhouse! In Better Than Fiction she delivers another one of her signature stories—clever, relatable, flirty, and warm. Between these pages is a loving tribute to independent bookstores and the people who find home and community among their stacks. Don't miss this unputdownable story about what it means to be truly loved in more ways than one."—Rosie Danan, author of The Roommate
"Better Than Fiction is a charming, heartfelt romcom, filled with great characters, laugh-out-loud banter and some very cheeky seniors. It's also a sensitive portrayal of grief and a timely reminder of the vital role books and bookshops play in bringing people together. I loved it."—Freya Sampson, author of The Last Chance Library
"Even at its most tender and aching moments, Better Than Fiction is charming and honey-sweet to its core."—NPR
"This promises to be the perfect grumpy/sunshine contemporary romance that's sexy and fun, even as it grapples with grief and complicated family dynamics."—BookRiot
"Better than Fiction is the sensational, charming, sexy new novel from the talented Alexa Martin."—All About Fiction
"Martin (Intercepted) shines in this enchanting tale of a reluctant bookstore owner and the author who shows her love is possible...The charmingly ornery Drew makes a great contrast, and it's emotionally satisfying to watch her high walls come down. Stellar supporting characters—especially Drew's bestie, Elsie, and sister, Daisy—add humor throughout. The result is utterly entertaining."—Publishers Weekly
"Romance readers will feel vindicated by Drew's growing appreciation of feel-good fiction, and will root for her and Jasper to get a happy ending equal to those in his novels."—BookPage
"Martin's latest multicultural contemporary rom-com explores grief and anxiety and is romantic with just the right amount of spice."—Booklist