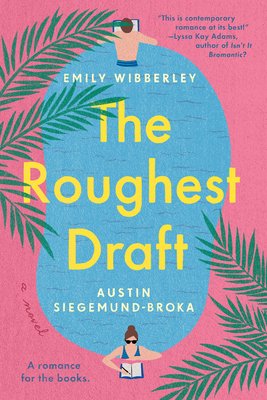 The Roughest Draft
Publication Date:
January 25th, 2022
BOOK ENDS Winchester
1 on hand, as of Oct 3 5:21pm
(FICTION - ROMANCE)
On Our Shelves Now
Description
One of...
Amazon's Best Romances of January
Popsugar's Best New Romances of 2022
Cosmopolitan's Best Romance Novels of 2022
Buzzfeed, GMA.com, Shondaland, and Bustle's Best of January
Oprah Daily's Most Anticipated Romances of 2022
E! News' Books to Add To Your Reading List in January
Bookbub's Most Anticipated Romances of Winter
The Nerd Daily's Swoonworthy 2022 Releases
They were cowriting literary darlings until they hit a plot hole that turned their lives upside down.
Three years ago, Katrina Freeling and Nathan Van Huysen were the brightest literary stars on the horizon, their cowritten book topping bestseller lists. But on the heels of their greatest success, they ended their partnership on bad terms, for reasons neither would divulge to the public. They haven't spoken since, and never planned to, except they have one final book due on contract.
Facing crossroads in their personal and professional lives, they're forced to reunite. The last thing they ever thought they'd do again is hole up in the tiny Florida town where they wrote their previous book, trying to finish a new manuscript quickly and painlessly. Working through the reasons they've hated each other for the past three years isn't easy, especially not while writing a romantic novel.
While passion and prose push them closer together in the Florida heat, Katrina and Nathan will learn that relationships, like writing, sometimes take a few rough drafts before they get it right.
Praise for The Roughest Draft
"Real, raw, and heartfelt."—USA Today
"The Roughest Draft is a book about books, and a breathtaking meditation on the ways in which fiction can be a space to expose and write large our must vulnerable truths...Complex and achingly romantic, The Roughest Draft feels as if it's a palimpsest for Wibberley and Siegemund-Broka's most deeply held beliefs about writing and each other — a profound collective story inked out for all of us to find ourselves on its pages."—Entertainment Weekly
"The Roughest Draft has it all: Romance, rumor, and intrigue, and you won't want to put it down."—Shondaland
"Wibberley and Siegemund-Broka deliver on what they've always done best: imperfect characters who you want to follow all the way to the end. There's fire-hot tension and yearning and resentfulness and fights and steamy romance, but there's also beauty in the way the story depicts the uncertainty of creative careers, working as a team, and individual growth. If you have a case of winter blues, this is the novel to pick up."—Buzzfeed
"Emily Wibberley and Austin Siegemund-Broka are the dream team from heaven. Starting as YA authors and shifting their powerhouse kingdom into adult, The Roughest Draft absolutely gives me The Hating Game vibes for a new generation, but sweeter. And maybe steamier?"—Oprah Daily
"This novel is that rare piece of writing that needs no editing, haunts your sleep, and leaves you wishing it was longer when you turn the last page."—Jodi Picoult, #1 New York Times bestselling author of Wish You Were Here
"I love, love, LOVED this book. It sucks you into a slow, sexy burn from page one and keeps you hooked with its layered, heart-wrenching honesty. This is contemporary romance at its best!"—Lyssa Kay Adams, author of Isn't It Bromantic?
"Together, Emily Wibberley and Austin Siegemund-Broka produce a seamless voice that is compulsively readable. Their characters spark to life immediately on the page, and are so real and relatable that I'm still thinking about them days later."—Jen DeLuca, USA Today bestselling author of Well Matched
"There isn't a single page of The Roughest Draft, not one, that doesn't contain a sentence I had to re-read twice just to savor. I'm going to be thinking about this heartbreakingly lovely, vividly emotional book for a long time. These authors are masters of their craft and their writing is such a treat to read."—Sarah Hogle, author of Twice Shy
"Searingly insightful and achingly romantic, The Roughest Draft is a sweep you off your feet celebration of love and creativity in all its mess. Emily Wibberley and Austin Siegemund-Broka plunge readers into the world of co-writing with a depth and vulnerability that is sure to delight and fascinate."—Sarah Grunder Ruiz, author of Love, Lists, and Fancy Ships
"Complex and compelling, The Roughest Draft is a love letter to the creative process and how it inflects our lives and, most especially, our relationships."—Kate Clayborn, author of Love at First
"The Roughest Draft offers the most tantalizing romantic tension with a giant helping of swoon."—Trish Doller, author of Float Plan
"The Roughest Draft turns the act of co-writing a novel into one of the most soulful expressions of love I've ever read. Smart, tender, and deeply romantic, this book is an unforgettable, page-turning knockout." —Bridget Morrissey, author of Love Scenes
"Utterly engrossing and beautifully wrought, The Roughest Draft is an intimate and authentic portrayal of human connection and the creative process. An exquisite love story that will leave you spellbound and longing for more."—Libby Hubscher, author of Meet Me in Paradise

"...[A] deeply emotional meditation on the psychological perils of success within a passionate romance."—Booklist (starred)
"This will-they-or-won't-they romance is perfect for readers who enjoy friends-to-lovers, or anyone pursuing a passion project professionally. For fans of Emily Henry's Beach Read, Minnie Drake's Star-Crossed, and Christina Lauren's Twice in a Blue Moon."—Library Journal