Discounted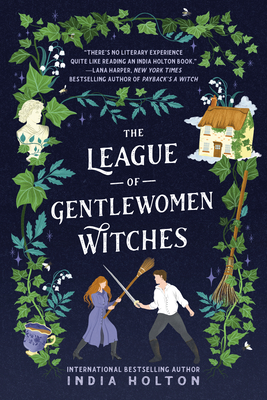 The League of Gentlewomen Witches (Dangerous Damsels #2)
Previous price:

$18.00
Current price:

$16.00
Publication Date:
March 15th, 2022
BOOK ENDS Winchester
1 on hand, as of Dec 9 9:14am
(FICTION - ROMANCE)
On Our Shelves Now
Description
"As much fun as the English language will permit."—New York Times Book Review on The Wisteria Society of Lady Scoundrels

Just when you thought it was safe to go back into the teahouse. . . .
Miss Charlotte Pettifer belongs to a secret league of women skilled in the subtle arts. That is to say—although it must never be said—witchcraft. The League of Gentlewomen Witches strives to improve the world in small ways. Using magic, they tidy, correct, and manipulate according to their notions of what is proper, entirely unlike those reprobates in the Wisteria Society.
 
When the long lost amulet of Black Beryl is discovered, it is up to Charlotte, as the future leader of the League, to make sure the powerful talisman does not fall into the wrong hands. Therefore, it is most unfortunate when she crosses paths with Alex O'Riley, a pirate who is no Mr. Darcy. With all the world scrambling after the amulet, Alex and Charlotte join forces to steal it together. If only they could keep their pickpocketing hands to themselves! If Alex's not careful, he might just steal something else—such as Charlotte's heart.
Praise for The League of Gentlewomen Witches (Dangerous Damsels #2)
One of Buzzfeed's Best Books of March
A March LibraryReads Pick
"A brilliant mix of adventure, romance, and Oscar Wildesque absurdity - one of the wittiest, most original rom coms I have read all year."—Evie Dunmore, USA Today bestselling author of Bringing Down the Duke
"There's no literary experience quite like reading an India Holton book. The League of Gentlewoman Witches is a wild, rollicking, delicious carnival ride of a story, filled with rakish pirates, chaotic witches, flying houses (and bicycles, and pumpkins), delightful banter, and some serious steam. You've never read Victorian romance like this before... and it'll ruin you for everything else."—Lana Harper, New York Times bestselling author of Payback's a Witch
"Fantastical, romantic fun! Sparkling with witty allusions to Shakespeare and Austen, whimsical adventure, and tenderhearted romance, The League of Gentlewomen Witches is a book lover's dream come true."—Chloe Liese, author of the Bergman Brothers series
"Sexy, funny, and utterly charming, The League of Gentlewomen Witches is like a deliciously over-caffeinated historical romance novel. Not only does Holton treat us to a fiery feminist witch as our heroine and a dashing pirate as our leading man, but she also gives us lyrical prose and crackling banter to enjoy on the side. Buckle up, readers, because this is a ride you won't want to miss."—Lynn Painter, author of Mr. Wrong Number
"What happens when a prim and proper witch crosses paths with a dashing pirate? Flaming chaos and delicious debauchery, of course. The League of Gentlewomen Witches is another wickedly funny romp through this glorious world created by India Holton."—Harper St. George, author of The Devil and the Heiress
"When a prickly witch meets her match in a dangerously endearing pirate... the match bursts into flames! India Holton's joyous, swoony, genre-exploding novel is a marvel, bristling with wit (and weaponry!) and brimming with love. The League of Gentlewomen Witches will steal your heart, fly it to the moon, and return it to your chest, sparking with magic and just in time for tea."—Joanna Lowell, author of The Runaway Duchess
"The League of Gentlewomen Witches has punch and verve, and makes for one heck of ride. It's romantic, sensual and a lot of fun, too."—All About Romance
"Filled with wit and an intriguing enemy-to-lovers romance. For fans of Jane Austen and Evie Dunmore."—LibraryReads
"The whimsical worldbuilding forms a perfect backdrop to the angsty couple, and Holton's winking narration, which puts her in cahoots with the reader, makes her exaggerated characters work. Overflowing with heart, humor, and hyperbole, this clever romance enchants."—Publishers Weekly
"With her arch turns of phrase and clever wordplay, Holton provides plenty of chuckles...a fun-filled romp in a topsy-turvy world of corset-wearing, knife-wielding, magic-casting women and gun-wielding, light-fingered, charming pirates."—Kirkus Reviews
"Clever word play, delightful double entendres, and adventurous high jinks will delight fans of smart, witchy romances, including the first in Holton's Dangerous Damsels series, The Wisteria Society of Lady Scoundrels (2021)."—Booklist
"Holton takes readers on a wild ride through a fun, limitless world, where frivolity and whimsy reign supreme and skilled swordwork and grand displays of magic abound."—Bookpage