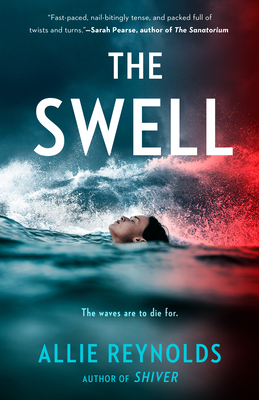 The Swell
Publication Date:
July 11th, 2023
Publisher:
G.P. Putnam's Sons
BOOK ENDS Winchester
2 on hand, as of Sep 23 9:13am
(MYSTERY)
On Our Shelves Now
Description
"Fast-paced, nail-bitingly tense and packed full of twists and turns. I found it unputdownable – loved it!"--Sarah Pearse, author of The Sanatorium
Point Break meets And Then There Were None in a pulse-pounding beach read that explores the dangerous ties between a group of elite surfers who are determined to find the perfect waves at any cost…even murder.
The waves are to die for.

Three years ago, passionate surfer Kenna Ward lost her two great loves—after her boyfriend drowned, she hung up her surfboard and swore off the water for good. But she is drawn back to the beach when her best friend, Mikki, announces her sudden engagement to a man Kenna has never met—a member of a tight-knit group of surfers. Kenna travels to a remote Australian beach, entering a dangerous world far from civilization where the waves, weather, and tides are all that matter. Kenna is tempted back into the surf, and drawn into the dazzling group and the beach they call their own.
But this coastal paradise has a dark side, and members of the group begin to go missing. Kenna realizes that in order to protect Mikki and learn more about the surfers, she must become one of them…without becoming one of their victims. What follows is an adrenaline-fueled thriller packed with twists and turns, exploring the dangerous edge between passion and obsession.
Praise for The Swell
"Who says a beach read has to be romantic? This spine-chilling thriller takes readers into the uncharted waters of a remote beach off the coast of Australia. . . . This nail-biting seaside suspense guarantee[s] readers unexpected twists and turns that will make it impossible to put down. . . . This pulse-pounding adventure is an ideal beach read for those who desire a fast-paced summer setting as they lounge safely on the sands of the shore." —New Jersey Digest
"The holiday getaway takes a suspenseful turn." —Washington Post, "Summer Reading Picks"
"A surfer who quit the sport after her boyfriend's drowning is drawn back in by new friends, who may be even more dangerous than the waves they chase." —People
"Pick up this adrenaline-pumping novel for a cast of unhinged, sinister surfers, a remote Australian beach and a woman caught in a deadly adventure." —Parade

"The author of Shiver moves from the mountains to the beach as a passionate surfer finds herself caught in a deadly adventure. An exhilarating, adrenaline-filled tale of surfing and rock scrambling." —Kirkus Reviews (starred review)
"This fast-paced, suspenseful thriller with undertones of 'Survivor' contrasts an idyllic landscape with its savage inhabitants. Recommend this to fans of Ruth Ware, Lucy Foley, and Sarah Goodwin." —Booklist (starred review)
"We need more sports thrillers, so I'm glad Allie Reynolds, former professional athlete and author of the brilliant thriller Shiver, wrote The Swell." —Buzzfeed
"This pacy travel thriller delivers a secret community, a cast of hot surfers, and a classic dystopian sting in the tail." —Crimereads
"If you're looking for beach reads, it doesn't get any beachier than The Swell…Prepare to clear your schedule for this Agatha Christie-esque book." —Book Riot

"A compulsive page-turner. The hidden motives of this surf-worshipping cultish group of friends, who would do anything necessary to protect their hidden beach from the outside world, maintained a taut suspense that truly had me until the very last page." —Sally Thorne, author of The Hating Game
"A thrill-ride of a novel, The Swell brings together a cast of sinister characters on a remote, surf-pounded beach, where no one is what they seem. A high-octane, addictive summer read, perfect for your beach bag." —Lucy Clarke, author of One of the Girls

"The Swell is a delicious blend of travel and danger, a surfer's paradise of a book with a razor-sharp menace just under the surface." —Roz Nay, author of The Hunted
"The Swell is like an unhinged adult surfer Lord Of The Flies, and it is thoroughly satisfying. Buckle in, let the paranoia overtake you, and ride it to its satisfying end!" —Darby Kane, author of Pretty Little Wife
"A unique, addictive thriller set in the fascinating and often dangerous world of surfing ... where a close-knit, thrill-seeking community will do anything to protect their own version of paradise ... and where everyone has something to hide. The tension builds with the heat and the waves. I was totally swept away!" —Helen Cooper, author of The Downstairs Neighbor

"Readers, get ready: The Swell is a pulse-pounding, treacherous adventure that will pull you in like a powerful undertow and not let go. With a lush, sun-soaked setting, a relentless plot, and jaw-dropping twists, you'll race through the pages and into the nightmarish dark side of this beach paradise. An intense, visceral reading experience." —Laurie Elizabeth Flynn, author of The Girls Are All So Nice Here

"Reynolds has delivered yet another tense, twisty, addictive read. The vivid world and fascinating characters will stay with me for some time!" —Jo Spain, author of The Perfect Lie
"Allie Reynolds once again immerses us in a setting so powerful that we can hear the waves crashing into the bay as we follow a group of wayward surfers on their journeys to overcome fear while each hiding a dark secret. With bone-chilling dread and irresistible cliffhangers, The Swell showcases Reynolds's immense talent at turning her own passion into a twisty, creepy suspense that will keep you glued to every seductive page." —Samantha M. Bailey, author of Woman on the Edge and Watch Out for Her
"An absolute masterclass in tension; dripping from every page as the fear ramps and the questions as to what is really going on build. The setting and characters are magnificent." —Sarah Bonner, author of Her Perfect Twin
"A wild ride, full of thrilling twists and unexpected turns, made more compelling by the book's majestic and eerie setting. Reynolds' intimate knowledge of the surfing world adds layers to a story that had me racing through the pages until the final, pulse-pounding conclusion." —Danielle Girard, author of White Out
"Sun, sand, surf and suspense: The Swell is drenched in atmosphere, tension and intrigue." —Emma Haughton, author of The Dark
"A tense and gripping thriller about friendship and obsession. Kept me guessing until the very end." —Jo Jakeman, author of What His Wife Knew