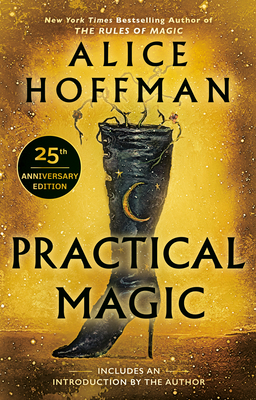 Practical Magic: 25th Anniversary Edition (The Practical Magic Series #1)
Publication Date:
August 5th, 2003
BOOK ENDS Winchester
3 on hand, as of Sep 23 1:20pm
(FICTION)
On Our Shelves Now
Description
*25th Anniversary Edition*—with an Introduction by the Author!
The Owens sisters confront the challenges of life and love in this bewitching novel from the New York Times bestselling author of The Rules of Magic, Magic Lessons, and The Book of Magic.
For more than two hundred years, the Owens women have been blamed for everything that has gone wrong in their Massachusetts town. Gillian and Sally have endured that fate as well: as children, the sisters were forever outsiders, taunted, talked about, pointed at. Their elderly aunts almost seemed to encourage the whispers of witchery, with their musty house and their exotic concoctions and their crowd of black cats. But all Gillian and Sally wanted was to escape. One will do so by marrying, the other by running away. But the bonds they share will bring them back—almost as if by magic...
"Splendid...Practical Magic is one of [Hoffman's] best novels, showing on every page her gift for touching ordinary life as if with a wand, to reveal how extraordinary life really is."—Newsweek
"[A] delicious fantasy of witchcraft and love in a world where gardens smell of lemon verbena and happy endings are possible."—Cosmopolitan
Praise for Practical Magic: 25th Anniversary Edition (The Practical Magic Series #1)
Praise for Practical Magic
"A beautiful, moving book about the power of love and the desires of the heart."—Denver Post
"Charmingly told, and a good deal of fun."—The New York Times Book Review

"One of her most lyrical works...Hoffman is at her best."—San Francisco Chronicle Book Review
"Written with a light hand and rhythm...Practical Magic has the pace of a fairy tale but with the impact of accomplished fiction."—People
"A sweet, sweet story that like the best fairy tales says more than at first it seems to."—New York Daily News
"[Hoffman] has proved once again her potency as a storyteller, combining the mundane with the fantastic in a totally engaging way."—The Orlando Sentinel
"Hoffman's writing has plenty of power. Her best sentences are like incantations—they won't let you get away."—Kirkus Reviews

"Witches and ghosts, spells and sleight-of-hand weave a fanciful atmosphere in Alice Hoffman's tender comedy about clairvoyance, spells, and family ties."—The Miami Herald

"A cosmic romance leavened with just the right touch of pragmatism and humor."—Booklist