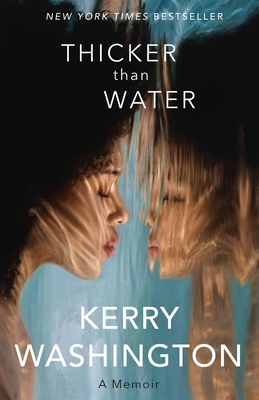 Thicker than Water: A Memoir
Publication Date:
September 26th, 2023
Publisher:
Little, Brown Spark
BOOK ENDS Winchester
2 on hand, as of Dec 9 9:14am
(MOVIES/TV/ENTERTAINMENT)
On Our Shelves Now
Description
Award-winning actor, director, producer, and activist Kerry Washington shares the deeply moving journey of her life so far, and the "beautiful" story of discovering her truth in this instant New York Times bestseller (Oprah Winfrey).
While on a drive in Los Angeles, on a seemingly average afternoon, Kerry Washington received a text message that would send her on a life-changing journey of self-discovery. In an instant, her very identity was torn apart, with everything she thought she knew about herself thrown into question.
 
In Thicker than Water, Washington gives readers an intimate view into both her public and private worlds—as a mother, daughter, wife, artist, advocate, and trailblazer. Chronicling her upbringing and life's journey thus far, she reveals how she faced a series of challenges and setbacks, effectively hid childhood traumas, met extraordinary mentors, managed to grow her career, and crossed the threshold into stardom and political advocacy, ultimately discovering her truest self and, with it, a deeper sense of belonging.
 
Throughout this profoundly moving and beautifully written memoir, Washington attempts to answer the questions so many have struggled with: Who am I? What is my truest and most authentic self? How do I find a deeper sense of connection and belonging? With grace and honesty, she inspires readers to search for—and find—themselves.
Praise for Thicker than Water: A Memoir
"An exquisitely moving story of grace and wisdom, Kerry Washington takes us along her hard-won transformation from a sheltered young girl growing up in the Bronx, to a brilliant actor who would portray one of the most iconic roles in television. And all the while, she shines a light on the acting world, the traumas and triumphs of womanhood and the true, full meaning of family. A gift and a revelation."—Isabel Wilkerson, author of The Warmth of Other Suns and Caste: The Origins of Our Discontents
"This book bursts open with honesty and humility. At every season of her life, we watch Washington navigate the thrilling trajectory of her career alongside the complexities of her family life. This is not a memoir of someone who wants us to see them as flawless; it is a story of someone who wants us to see them as human. What a gift we have been given, this opportunity to bear witness to one of our great actress's journey through both her eyes and her heart. Thicker than Water is a beautifully written memoir by an extraordinary artist."—Clint Smith, author of the #1 New York Times bestseller How the Word Is Passed
"Beautiful."—Oprah Winfrey
"With a true gift for prose, Kerry Washington conveys an intoxicating passion and gratitude for her life. I found myself captivated by every chapter, at her side, inspired by the full spectrum of her experience."—Gwyneth Paltrow, actor and founder of goop
"I read Thicker than Water in one sitting, astonished by Washington's thrilling story and shimmering writing. Washington is more honest in these pages than she has to be, and the result is a book that will heal hearts and relationships. Thicker than Water will keep readers up at night—flipping pages and thinking: Good Lord, she can write, too??? Yep, she sure as hell can."—Glennon Doyle, author of the #1 New York Times bestseller Untamed
"If Kerry Washington's superpower in acting is that she can make the viewer feel intimate with someone we've never known, her writing superpower is that she can make us relive a life we've never lived. Utterly immersive, beautifully descriptive, and radically honest, this book takes a compassionate sledgehammer to the facades that so many of us create about ourselves and our families. It's such a gift."—Trevor Noah, author of the #1 New York Times bestseller Born a Crime
"Both sincere and witty, a rare combo."—Elisabeth Egan, New York Times
"Washington illuminates a very narrow and specific slice of her life — avoiding the sensational in favor of the sincere — and the result is very affecting."—Sabrina Ford, The Washington Post
"Thicker Than Water is a powerful telling of Washington's childhood and early days of her career through her present, where a shocking truth about the actress' family brings her whole life into perspective. It is a deeply moving exploration of the events that have led Washington to the person she had become through stories about traumatic past events, many of her most beloved roles, and how her own family came to be."—Alamin Yohannes, Entertainment Weekly
"Thicker Than Water is a startlingly intimate view into the beloved artist and activist's private world, which she previously kept quiet as she evolved from breakout star to leading lady and powerhouse multihyphenate."—Mekishana Pierre, Entertainment Tonight
"Washington's candor about forgiveness and building resilience after multiple traumas is deeply compelling."—Ashley Brown, senior editor, All Things Considered