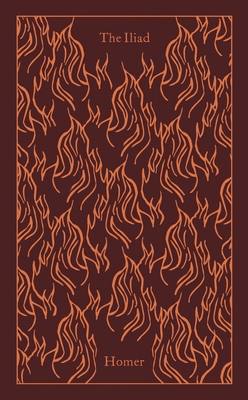 The Iliad (Penguin Clothbound Classics)
Publication Date:
November 24th, 2015
Publisher:
Penguin Classics
BOOK ENDS Winchester
2 on hand, as of Dec 9 9:14am
(DRAMA-POETRY)
On Our Shelves Now
Description
Part of Penguin's beautiful hardcover Clothbound Classics series, designed by the award-winning Coralie Bickford-Smith, these delectable and collectible editions are bound in high-quality, tactile cloth with foil stamped into the design.
The Iliad is the first and the greatest literary achievement of Greek civilization—the cornerstone of Western culture and an epic poem without rival in world literature. The story centers on the critical events in the last year of the Trojan War, which lead to Achilleus's killing of Hektor and the fall of Troy. But Homer's theme is not simply war or heroism. With compassion and humanity, he presents a universal and tragic view of the world: human life lived under the shadow of suffering and death set against a vast and largely unpitying divine background.
This edition presents Penguin Classics founder E. V. Rieu's lively translation of Homer's great epic.
Praise for The Iliad (Penguin Clothbound Classics)
"Fitzgerald has solved virtually every problem that has plagued translators of Homer. The narrative runs, the dialogue speaks, the military action is clear, and the repetitive epithets become useful text rather than exotic relics." –Atlantic Monthly
"Fitzgerald's swift rhythms, bright images, and superb English make Homer live as never before…This is for every reader in our time and possibly for all time."–Library Journal
"[Fitzgerald's Odyssey and Iliad] open up once more the unique greatness of Homer's art at the level above the formula; yet at the same time they do not neglect the brilliant texture of Homeric verse at the level of the line and the phrase." –The Yale Review

"What an age can read in Homer, what its translators can manage to say in his presence, is one gauge of its morale, one index to its system of exultations and reticences. The supple, the iridescent, the ironic, these modes are among our strengths, and among Mr. Fitzgerald's." –National Review
With an Introduction by Gregory Nagy