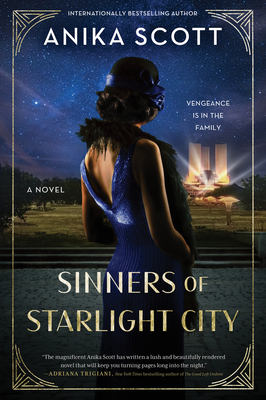 Sinners of Starlight City: A Novel
Publication Date:
July 18th, 2023
Publisher:
William Morrow Paperbacks
BOOK ENDS Winchester
3 on hand, as of Dec 9 9:14am
(FICTION)
On Our Shelves Now
Description
From the author of the international bestseller The German Heiress, a gripping historical drama about a woman determined to avenge the crimes against her family, set at the 1933 Chicago World's Fair.
"The magnificent Anika Scott has written a lush and beautifully rendered novel that will keep you turning pages long into the night." —Adriana Trigiani, New York Times bestselling author of The Good Left Undone
Vengeance is in the family, and the family is a bond like no other…
It's the worst year of the Great Depression, and America needs all the hope it can get. The Chicago World's Fair, a glittery city-within-a-city, becomes a symbol of the good that's yet to come. But every utopia has a seedy side—and that's Rosa Mancuso's world. As the mysterious Madame Mystique she mixes magic with a dose of bare skin burlesque, bringing customers to the home of the Fair's carnival rides and spectacles.
Rosa doesn't perform for fame, though. She has come from Mussolini's Italy to America, where she's plotting her revenge for the murders of her family. The perpetrator will soon arrive at the World's Fair via a celebrated Italian air fleet, and Rosa is determined to be prepared.
But when her estranged cousin, Mina, comes to her desperate for help, with a dangerous mobster close on her heels, Rosa agrees to protect Mina and her new baby, born across the color line. With the clock ticking, Rosa decides the only way to survive is to make vengeance a family affair and prompt everyone to, at last, confront the sins from their pasts.
A gripping story of retribution, belonging, and survival, Sinners of Starlight City boldly explores the complexity of identities straddling ethnic lines and asks, who gets to decide who we are and where we belong?
Praise for Sinners of Starlight City: A Novel
"A 'Godfather'-esque tale of revenge set at the 1933 Chicago World's Fair, Sinners of Starlight City invites readers into the lives of women determined to make their own lives at any cost." — Popsugar
"The magnificent Anika Scott has written a lush and beautifully rendered novel that will keep you turning pages long into the night. Rosa Mancuso is a headliner at the Chicago World's Fair in 1933. Her tangled past in Sicily unravels as she seeks revenge for the murder of her family at the hands of Paolo Amanta, a renowned Fascist pilot for Mussolini. Mystery, intrigue, secrets and a vendetta fuel this story, which is ultimately about the meaning of family and the power of love. Brava!" — Adriana Trigiani, New York Times bestselling author of The Good Left Undone
"Full of Italian mobsters and family strife, this tale of historical fiction and drama will transport readers to the fantasy and glory that was the 1933 World's Fair." — Booklist
"A beautifully woven plot that is utterly captivating. With interesting characters, including some horrific villains, the story highlights the impact revenge can have on a person's perspective. From start to finish, Sinners of Starlight City delivers a fascinating story of old secrets finally coming to light." — Novels Alive
"This riveting story plays out at the 1933 World's Fair in Chicago (Starlight City), but its setting also encompasses Sicily during the years of Mussolini's rise in Italy….Highly recommended for its fast-paced narrative, its memorable cross-cultural characters, and its striking setting." — Historical Novel Society
"Expansive and emotive, I couldn't put this book down. Amid the intrigue, revenge, and redemption set against the backdrop of the Chicago World's Fair, Anika Scott still manages to make Sinners of Starlight City a deeply intimate story about family with characters that jump off the page. Another notch in Scott's literary belt!" — Catherine Adel West, author of The Two Lives of Sara and Saving Ruby King
"A deftly crafted, original and gripping story of retribution, belonging, and survival, with the publication of Sinners of Starlight City, novelist Anika Scott effectively explores the complexity of identities straddling ethnic lines and asks, who gets to decide who we are and where we belong? A riveting and memorable read from cover to cover." — Midwest Book Review
"This novel whisked me away to 1930s Chicago and all the wonders of the World's Fair. Family secrets, revenge and women who refuse to do what they're told—an ideal combination." — Louise Hare, author of This Lonely City and Miss Aldridge Regrets 
"Anika Scott pens a fascinating tale of secrets, surveillance, and sisterhood set against the burgeoning Cold War…The Soviet Sisters will suck you in to the very last page!" — Kate Quinn, New York Times bestselling author of The Diamond Eye on The Soviet Sisters
"Electrifying, meticulously researched, and expertly plotted, The Soviet Sisters is at once a Cold War thriller, a gripping spy story, a page-turning mystery, and a familial drama." — Lara Prescott, New York Times bestselling author of The Secrets We Kept on The Soviet Sisters
"Scott paints a world of 'moving shadows and listening ears,' rife with secrets, spies, and forbidden loves…. Fans of Kate Quinn will be sure to enjoy the strong female characters in this historical-fiction spy novel." — Booklist on Soviet Sisters
"Scott's magnetic debut follows one woman's quest for survival amid the devastation of post-WWII Germany… Scott's narrative is embellished with realistic depictions of rubble-filled German cities, scavenging residents, and moral questions about Clara's family ties to the Nazi regime. Fans of WWII fiction will be intrigued by Scott's exploration of how war changes the moral compass of its victims." — Publishers Weekly on The German Heiress
"Meticulously researched and plotted like a noir thriller, The German Heiress tells a different story of WWII— of characters grappling with their own guilt and driven by the question of what they could have done to change the past." — Jessica Shattuck, New York Times bestselling author of The Women in the Castle on The German Heiress