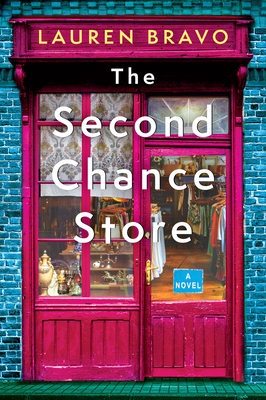 The Second Chance Store: A Novel
Publication Date:
July 4th, 2023
BOOK ENDS Winchester
2 on hand, as of Dec 9 9:14am
(FICTION - ROMANCE)
On Our Shelves Now
Description
If clothes can get a second chance, why can't we? Brimming with life, love, and the stories bound up in even the most everyday items, The Second Chance Store is a tale of friendship, loss, and dusting yourself off and starting over—a novel filled with humor and a testament to the enduring power and joy of charity shops.
City dweller Gwen feels like she's living a secondhand life. She's thirty-eight, perpetually single, and in dire need of a dentist's appointment. Her friends are busy procreating in the country, and conversations with her parents seem to revolve entirely around hedge borders and the trash pickup schedule. Above all she's lonely. But then, isn't everyone?
Then she's let go from a job she drifted into a decade ago and never left, and Gwen realizes it's time to make a change, starting with cleaning out her apartment. In the charity shop where she literally and metaphorically unloads her baggage, she discovers a group of weird and wonderful people devoted to finding a new home for donated items that have lost their use elsewhere. Gwen volunteers there—and finds a new home for herself among her fellow workers while discovering joy in the untold stories of secondhand things.
Now it's time for Gwen to get out of her life in pause, and to find a way to move forward with bravery and humanity—and more regular dental care.
Praise for The Second Chance Store: A Novel
"A charming story of breathing life into things (and people!), The Second Chance Store tells the story of a floundering woman who needs a purpose. She finds one in a storyline about love and loss, one that will both capture your heart and warm it, with a satisfying ending that will leave you searching for other books by Lauren Bravo." — Courtney Cole, New York Times bestselling author
"If you've ever wandered into a thrift store and wondered what the story was behind all that stuff, Lauren Bravo's moving and touching novel answers that question. The Second Chance Store is a charming tale of why people (and things) deserve a second (or third or fourth) chance to get it right when it comes to loss, love and life. I loved this book filled with humor, humanity, and hope." — Lian Dolan, author of Love and Found in Paris
"I think I've been waiting for a novel like The Second Chance Store for my whole reading life. This is a luscious, shimmering book of depth and delicacy. It's sad, hilarious, tender, brutal, brilliantly observed—there is a sense of magic on every page."  — Daisy Buchanan, author of Careering and Insatiable
"Lauren Bravo is one of my very favorite writers."  — Dolly Alderton, author of Ghosts
"Laugh-out-loud funny but also poignant and tender… an absorbingly special debut novel. I devoured in equal measure the delicious descriptions of food and the moving vignettes of preloved treasures peppered throughout the book, while the nineties and noughties nostalgia had me gasping with pleasure." — Laura Price, author of Single Bald Female
"An absolute triumph. It's so rare to find a book that you feel so invested in... so ruddy good. And clever. And FUNNY... It was like High Fidelity for charity shops... The writing is so natural and there's a sense of wonder on every page... Honestly it's just a BRILLIANT book. I loved it so much." — Eva Rice, author of The Lost Art of Keeping Secrets
"Just like that once-in-a-lifetime charity shop find, (this) is a gleaming prize to be treasured. Lauren Bravo is witty and thoughtful in her exploration of our relationship with objects and trends, believing that – just as a pair of shoes can have many, many lives – so can the people that wear them." — Caroline O'Donoghue, author of Promising Young Women, Scenes of a Graphic Nature and the All Our Hidden Gifts series
"Full of relatable anecdotes, lively, funny and modern, The Second Chance Store is a moving tale of emancipation and friendship. I loved it!" — Margaux Vialleron, author of The Yellow Kitchen