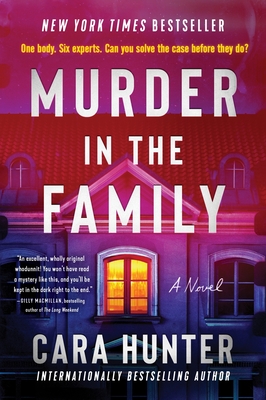 Murder in the Family: A Novel
Publication Date:
September 19th, 2023
Publisher:
William Morrow Paperbacks
BOOK ENDS Winchester
1 on hand, as of Dec 9 9:14am
(MYSTERY)
On Our Shelves Now
Description
THE INSTANT NEW YORK TIMES BESTSELLER!
ONE BODY. SIX EXPERTS. CAN YOU SOLVE THE CASE BEFORE THEY DO?
Mega-bestselling British crime novelist Cara Hunter makes her big American debut with a wholly immersive thriller like none you've seen before: written as the teleplay of a true-crime documentary, it has the reader puzzling away, reviewing photos, maps, coroner's reports and other evidence as they read. Can you tell who's lying?
"An excellent, wholly original whodunnit! You won't have read a mystery like this, and you'll be kept in the dark right to the end." --Gilly MacMillan, bestselling author of The Long Weekend
It was a case that gripped the nation. In December 2003, Luke Ryder, the stepfather of acclaimed filmmaker Guy Howard (then aged 10), was found dead in the garden of their suburban family home.
Luke Ryder's murder has never been solved. Guy Howard's mother and two sisters were in the house at the time of the murder—but all swear they saw nothing. Despite a high-profile police investigation and endless media attention, no suspect was ever charged.
But some murder cases are simply too big to forget…
Now comes the sensational new streaming series Infamous, dedicated to investigating—and perhaps cracking—this famous cold case. Years later a group of experts re-examine the evidence – with shocking results. Does the team know more than they've been letting on?
True crime lovers and savvy readers, you can review the evidence and testimony at the same time as the experts. But can you solve the case before they do?
Praise for Murder in the Family: A Novel
"'Reads like true crime—relentlessly twisty and utterly compelling." — Shari Lapena, New York Times bestselling author of Everyone Is Lying
"An excellent, wholly original whodunnit! You won't have read a mystery like this, and you'll be kept in the dark right to the end."  — Gilly MacMillan, bestselling author of The Long Weekend
"This devilishly clever, ground-breaking novel will keep you guessing as you fly through its pages." — bestselling author Ian Rankin
"An addictive, unusually interactive novel putting the reader in the position of the viewer with inside information." — The Times (UK)
"Ingenious, complex, and immersive." — The Guardian
"Hunter has produced a brilliant and memorable work that contains many gift-wrapped surprises for the reader to uncover and decipher from start to finish." — Bookreporter.com
"This cleverly constructed mystery offers a full complement of surprises and loads of fun for clue-seeking readers… Hunter keeps the pacing lively and the cliffhangers plentiful. Armchair sleuths will savor this brisk and immersive puzzle."  — Publishers Weekly
'I adored it! So brilliantly put together, so full of twists and revelations – Cara Hunter's first standalone shows there's nothing she can't do. A great premise, perfectly executed – truly a cracker of a book.'
— JP Delaney, bestselling author of The Girl Before

"This book had me riveted to the page. It is original, inventive and totally 21st Century, but with no compromise on thrills and tension. In fact, the drama is so perfectly executed I felt as if I was actually in the moment with these characters. The twists are magnificent! It really is an equal triumph of style and content. Just brilliant!'
—
Janice Hallett, Bestselling author of The Twyford Code