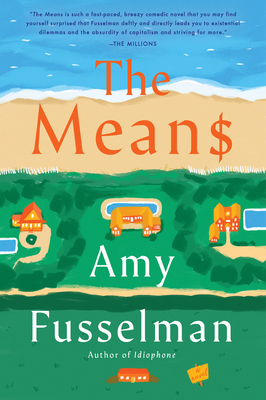 The Means: A Novel
Publication Date:
July 4th, 2023
BOOK ENDS Winchester
3 on hand, as of Dec 9 9:14am
(FICTION)
On Our Shelves Now
Description
"The Means is such a fast-paced, breezy comedic novel that you may find yourself surprised that Fusselman deftly and directly leads you to existential dilemmas and the absurdity of capitalism and striving for more." – The Millions
Shelly Means, a stay-at-home mom and disgraced former PTA president, is poised to get the one thing in life she really wants: a beach house in the Hamptons. Surely, once she has her beach house, Shelly will at last feel at peace, in control, and content. It might be a very small house, and it might be in the least-fancy part of the Hamptons, but Shelly is hell-bent on achieving this idea of paradise. 
But what should be a simple real estate transaction quickly goes awry as Shelly's new neighbors disapprove of her proposed shipping container house at the same time that her spouse George's lucrative work as a VoiceOver artist dries up. When George wants to cancel the beach house, Shelly goes deeper down the rabbit hole of capitalism: it's an investment property! It's a community! It's a place for their children to thrive! And, for a woman whose labor has buoyed her family for years, this beach house might just be Shelly's last stand.
The debut novel from "one of our best interrogators of how we live now, and how we should live" (Dave Eggers), The Means is a comedy about the suffering inherent in desire, capitalist delusion, and the value of unpaid labor.
"With its deadpan absurdity, pithy prose and moral je ne sais quoi, Fusselman's latest will appeal to fans of Marcy Dermansky....With its satire of the particular hypocrisy of the Hamptons, including homeowners associations, graft, and garbage and recycling practices, Maria Semple....We may be entering a golden age of the comic novel, surely one of the best possible outcomes of this desperate moment in history." – Kirkus Reviews (starred review)
Praise for The Means: A Novel
"A fast-paced and funny send up." — People
"Delicious." — Zibby Owens, gma.com
"A plucky jaunt of a novel." — New York Times Book Review
"With its deadpan absurdity, pithy prose and moral je ne sais quoi, Fusselman's latest will appeal to fans of Marcy Dermansky....With its satire of the particular hypocrisy of the Hamptons, including homeowners associations, graft, and garbage and recycling practices, Maria Semple....We may be entering a golden age of the comic novel, surely one of the best possible outcomes of this desperate moment in history." — Kirkus Reviews (starred review)
"Just like its title, Amy Fusselman's new novel is breezy-sharp, super-funny, and full of second meanings and surprising insights into The Means, and what it means to have and lack them. You don't have to want to live in a shipping container in the Hamptons to understand Shelly Means and the yearnings that drive her hilarious desperate measures. But if you need a hint, Twix the socialist dog will yell it at you. (SPOILER, but look: Maria Semple and David Sedaris are brilliant, but have they written a talking dog as funny as Twix? The answer, my friends, is no. You can only find this, and so much else, in The Means)." — John Hodgman, author of Vacationland and Medallion Status
"This charming novel bears the Fusselman touch that makes all of her books so brilliant: touching, uncanny, and deceptively simple observations that dismantle complex assumptions about the world." — Sarah Manguso, author of Very Cold People
"Amy Fusselman's The Means is an absolute delight! Anyone who's ever wanted more than they had—so, all of us—will be unable to turn away from this wise, funny, page-turning story of relationships, motherhood, and real estate ambitions." — Jessica Anya Blau, author of Mary Jane
"Location, location, location: that is the real estate chant. In Amy Fusselman's The Means those words are intermingled with laugh, laugh, laugh. Fusselman is a prescient observer chronicling one couple's desire to live near where the other half live. She deftly captures the absurdity of the everyday and the American quest for more. The Means is funny, playful and at times painfully accurate." — A.M. Homes, author of The Unfolding and May We Be Forgiven
"The Means is such a fast-paced, breezy comedic novel that you may find yourself surprised that Fusselman deftly and directly leads you to existential dilemmas and the absurdity of capitalism and striving for more." — The Millions
"Fusselman (Idiophone, 2018) delivers a well-paced story with gentle humor, compassion, and a sparkling, original look at the absurdities of everyday life in a world filled with inequities, financial and otherwise."  — Booklist
"[An] entertaining debut. ... Recommended to anyone who enjoys humorous fiction." — Library Journal
"Damn funny. ... Fusselman presents a hilariously heightened reality." — Shelf Awareness