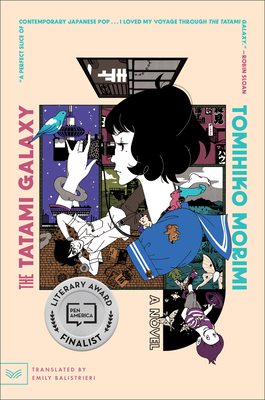 The Tatami Galaxy: A Novel
Publication Date:
July 4th, 2023
BOOK ENDS Winchester
1 on hand, as of Dec 9 9:14am
(FICTION)
On Our Shelves Now
Description
*SHORTLISTED FOR THE PEN TRANSLATION PRIZE*
An unfulfilled college student hurtles through four parallel realities to explore the what-might've-been and the what-should-never-be in this Groundhog Day meets The Midnight Library–esque novel from one of Japan's most popular authors.
Our protagonist, an unnamed junior at a prestigious university in Kyoto, is on the verge of dropping out. After rebelling against the dictatorial jock president of the film club, he and his worst and only friend, the diabolical creep Ozu, are personas non grata on campus. For two years, our protagonist has made all the wrong decisions, and now he's about to make another mistake. He and Ozu are preparing for revenge—a fireworks attack at the film club's welcoming party for new members. Then, a chance encounter with a self-proclaimed god sets the confused and distraught young man on a new course. Destiny will bring him together with Akashi, the blunt but charming sophomore he has a crush on—if he's brave enough to make a move. Yet our protagonist cannot get beyond his profound disillusionment and the moment is lost. But what if there's a universe where he did join the club of his dreams, ditched Ozu for good, and was confident enough to get the girl? A realm of possibility opens up for our protagonist as time rewinds, and from the four-and-a-half-mat tatami floor of his dorm room, he is plunged into a series of adventures that will take him to four parallel universes. In each universe, he is given the opportunity to start over as a freshman, in search of a rose-colored campus life.
The inspiration behind the much-loved anime series, Tomihiko Morimi's contemporary classic is a fantastic journey through time and space, where a half-eaten castella cake, a photograph from Rome, and a giant cavity in a wisdom tooth hold the keys to self-discovery. A time-traveling romp that speaks to everyone who has wondered what if, The Tatami Galaxy will win readers' hearts over . . . and over . . . and over again.
Praise for The Tatami Galaxy: A Novel
"This is not your ordinary campus novel or another Groundhog Day. In magical, irreverent, and often humorous prose that calls up both Murakami and Moshfegh, The Tatami Galaxy repeatedly reimagines the existential crises of a college misfit in a kaleidoscopic display of imagination, character, and genre. There is no question why this mash-up of multiverse adventure and philosophy has already become a new classic." 
— Sequoia Nagamatsu, national bestselling author of How High We Go in the Dark
"The team of Tomihiko Morimi and Emily Balistrieri is unbeatable: this novel vibrates with a voice that is sharp and funny, wacky and winning. It's a perfect slice of contemporary Japanese pop: a tangle of fates, simultaneously cosmic and comic. I loved my voyage through The Tatami Galaxy." — Robin Sloan, New York Times bestselling author of Mr. Penumbra's 24-Hour Bookstore and Sourdough
"Rich, unusual, and surprisingly profound, The Tatami Galaxy is a gorgeous application of the fantastic to celebrate the precious parts of life that we often forget." — Ada Palmer, award-winning author of Too Like the Lightning
Tomihiko Morimi's novel of burned out gods and misanthropic students jumping between alternate dimensions as they face their regrets proves to be just as touching and hilarious as the anime series it spawned. A surprisingly timely mash-up of Catcher in the Rye and Russian Doll, The Tatami Galaxy will resonate with anyone that's found themselves too often stuck in looping isolation.  — Tim Maughan, Locus Award-nominated author of Infinite Detail
"Morimi's delightful campus novel follows the quixotic adventures of an unnamed student dreaming of the perfect college experience…Light and sweet in its confection, this satisfies like a spongy piece of castella." — Publishers Weekly
"Beautiful and satisfying...Pick it up when you have the chance" — Tor.com
"Translator Balistrieri meticulously deciphers the protagonist's ' "rotten" university student voice' for English readers...anime aficionados will greatly appreciate the prose original that inspired the award-winning celluloid series of the same title." — Booklist
"Who can deny the pleasures of a good time-loop narrative?... there's a memorable payoff to several ongoing threads when the novel reaches its climax; you also may never look at moths the same way again."
— Words Without Borders
"[The Tatami Galaxy] is a frolicking novel packed with slacker hijinks and escapades. At its core lies pithy wisdom about choice and destiny... Morimi's sci-fi fusion of fun and the unfathomable offers a light touch that makes a lasting impression." — The Japan Times
"[A] treat better left unspoiled." — The New York Times Book Review