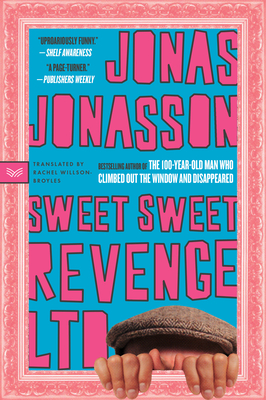 Sweet Sweet Revenge LTD: A Novel
Publication Date:
May 9th, 2023
BOOK ENDS Winchester
2 on hand, as of Dec 9 9:14am
(FICTION)
On Our Shelves Now
Description
The beloved author of The Hundred-Year-Old Man Who Climbed Out of the Window and Disappeared returns with an enchanting adventure that skewers the greed and hypocrisy that dominates our time and holds lessons about what's truly important in life.
Meet Ole Mbatian Jr., a Maasai warrior; Kevin, his sort-of-son; Jenny, a wronged and penniless ex-wife; and Hugo, an unscrupulous Stockholm ad-man whose company specializes in revenge services. 
As Jenny and Kevin seek revenge against the gallery owner who has wronged them, this madcap, funny and philosophical novel takes off on a madcap journey that spans five continents and whirls around a colorful cast of characters, including a goat called Molly and the Pope. 
As he's done in his previous novels, Jonas Jonasson acts as a travel guide through time, drops in a few lessons on colonialism and art history, and pokes fun at capitalism and the artworld, with plenty of laughs along the way. 
Translated from the Swedish by Rachel Willson-Broyles
Praise for Sweet Sweet Revenge LTD: A Novel
"A revenge scheme goes hilariously awry in this zany if glib farce from Jonasson. . . . [Sweet Sweet Revenge LTD is] a page turner." — Publishers Weekly
"In the first chapters of Sweet, Sweet Revenge Ltd there's enough plot for several novels... Jonas Jonasson, best known for The Hundred-Year-Old Man Who Climbed Out the Window and Disappeared, is a wildly inventive writer, often funny, who stuffs his bonkers but entertaining story with art, politics and romance, and a tongue-in-cheek meditation on the philosophy of getting even. Great fun." — The Times (London)
"Jonas Jonasson creates hilarity out of brilliantly absurd plots, whether it is a 100-year-old man escaping through an old folk' home window, or a South African peasant girl who saves the King of Sweden. His latest unlikely hero is Kevin who is abandoned by his callous father on the Kenyan savannah in the expectation he will be eaten by lions...Add a crooked art dealer, a lazy Swedish policeman, an ophthalmologist whose wife ditched him for a urologist, and we are set for delicious Jonasson mayhem." — Daily Express (London)
"Uproariously funny." — Shelf Awareness
"A glorious romp which confirms Jonas Jonasson's status as the most brilliant comic novelist alive." — Daily Mirror (UK)
"[A] comedic epic." — Los Angeles Daily News